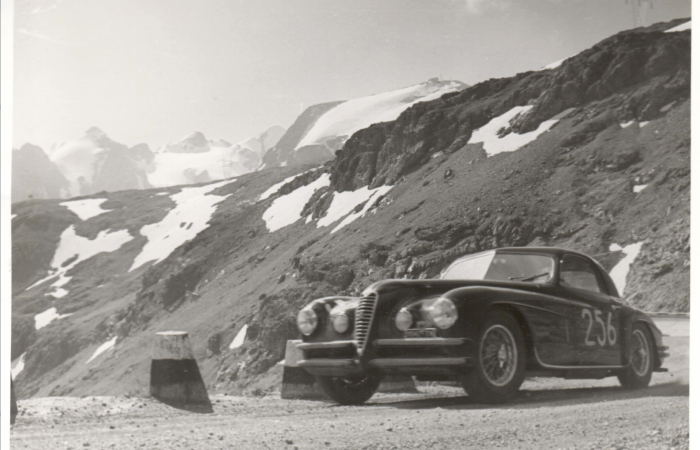 Details
The Classic Road Collection car

Body Type: Coupe
Year Built: 1948
Trans: Choose an item
Fuel Type: Gas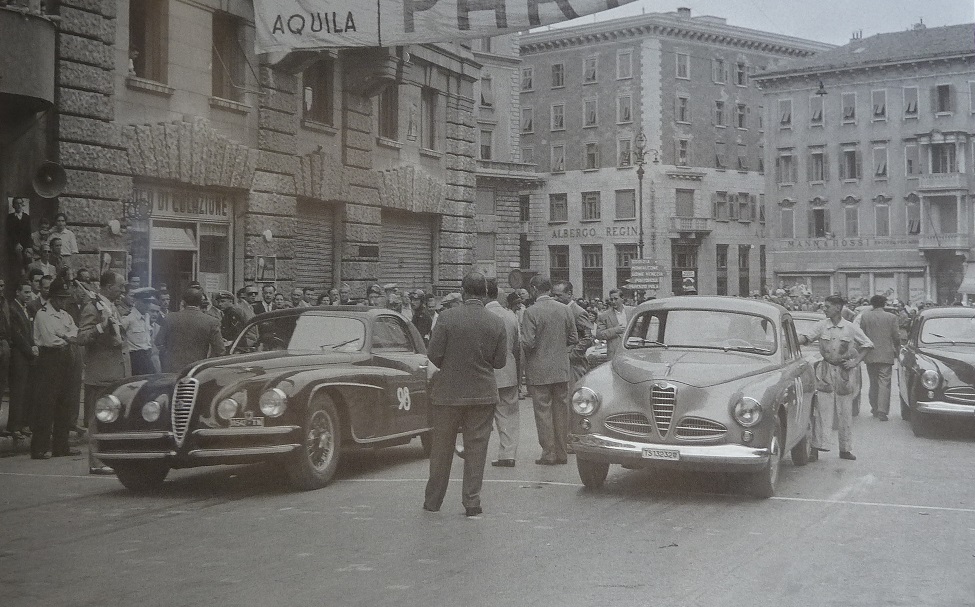 A development of the prewar 6C 2300 and 2500, this 6C 2500 Super Sport is the ultimate variant of the old style elegant, glamorous, and luxurious Alfa Romeos that were developed under the guidance of Vittorio Jano and Wilfredo Ricart. The specification is accordingly modern, including dual overhead cam engine and independent suspension all round. Alfa Romeo ambitiously raced the 6C 2300 and 2500 following their introduction, amassing an impressive string of victories and podium finishes including 1-2 in the 1937 Mille Miglia, 1-2-3 in the 1937 6 hour Targa Abruzzo at Pescara backed up by another Pescara win in 1938. Successful races continued after the cessation of WWII hostilities, including an overall win in the 1950 Targa Florio.
The most technically potent of several 6C 2500 models was the Super Sport, built on the 2,700mm wheelbase. With three Weber carburetors it gave 110hp even on the low octane fuel available in Europe at the time. The 6C 2500's relatively stiff frame and 4-wheel independent suspension delivered this power to the road much better than the typically cart-sprung solid axle cars of the day. The supple suspensions were easier on drivers and passengers, important both in preserving a competitor's alertness at the end of the Mille Miglia and to the owner of a Gran Turismo Alfa at the end of a road trip to Cannes. Their combination of sophisticated engineering, durability, and attractive bodywork has ensured that they are, and have always been, highly sought after by collectors and performance minded enthusiasts. Three variants were built postwar, including the two closed versions, one by Carrozzeria Touring of Milan, and one in house by Alfa Romeo.
This particular car, is a matching numbers unit, bodied by the most prestigious "carrozziere" Touring with Touring number plate 3301.
This Super Sport coupe has been built on the desirable 2,700mm "short" chassis. It is a solid partially restored example requiring a complete cosmetic restoration. The previous ownership period lasted for some 58 years.
The car was sold back in 1948 to the famous rally driver Eugenio Lubich of Triestre (Italy), who raced it very successfully in competition for the first years of its life. See the above attached picture. Mr. Lubich raced with great success with the most greatest Alfa, Ferrari, Maserati, Lancia and other uniques italian cars of all times, like Alfa 6C, Maserati A6GCS, Ferrari 250 Monza, Ferrari 250 TdF, etc…
This is part of the score achieved by Mr Lubich with this vehicle:
17.09.1950 Vittorio Veneto- Cansiglio: 4. Classificato categoria  GT
17.06.1951 Trento-Bondone: 2. Classificato categoria  GT
24.06.1951 Coppa del Pasubio (VI):4. Classificato categoria GT
08.07.1954 Bolzano- Mendola: 4. Classificato categoria GT
23-26.08.1951 Stella Alpina : 3. Classificato categoria GT
02.09 1951 Vittorio Veneto-Cansiglio
23.09.1951 Trieste-Opicina 3. Classificato categoria GT
30.09.1551 Chiusaforte-Selle Nevea (UD): 3. Classificato categoria GT
22.03.1952 corsa sulle Torricelle (VR) 4. Classificato categoria GT
On 29/09/1953 the car got sold to an italian aristocrat and one of the most laureated rally drivers, the Count Innocente Baggio, known in the rally world as "Dodo" who participated at the most important events like Mille Miglia, Targa Florio, 25 heures du Mans with cars like Ferrari 375 MM, Alfa 6C, etc. Mr. Baggio shared the wheel usually with his good friend and also aristocrat, diplomat playboy Porfirio Rubirosa (ex boyfriend of Marilyn Monroe, Ava Gardner, Rita Hayworth, Judy Garlan, Eva Perón, among others) and well known polo and race driver. Mr. Rubirosa was the right hand and son in law of dictator Trujillo of Dominican Republic. Rubirosa died at the age of 56 early in the morning on July 5, 1965, when he crashed in Paris his Ferrari 250 GT convertible into a chestnut tree after an all-night celebration at the Paris nightclub "Jimmy's" in honor of winning the Coupe de France polo cup. See http://en.wikipedia.org/wiki/Porfirio_Rubirosa We only need to type whether Mr Lubich, Dodo Baggio or Mr Rubirosa on internet to find out who they were, not only in terms of racing but as VIP's. Mr. Rubirosa also raced with Ferrari 166MM, Ferrari 625LM, Ferrari LM, Ferrari 500 Mondial Sebring, among others.
After this episode, this very special 6C was exported to France, when it was purchased by Mr. Milford back in 1954 or 1955 by a U.S. Army Platoon Sergeant by the name of "Sergeant Stone" while stationed in France. The car had been financed through GMAC in Zurich, Switzerland. At some point, the sergeant over-revved the engine, bent some valves and the car was parked. When the sergeant returned home, Milford (a "sergeant first class" in the U.S. Army) agreed to pay off the GMAC loan in Switzerland and the car became his. It seems that Sergeant Stone had already acquired a spare cylinder head. The engine was damaged but there was the spare head and parts were still available routinely in 1956.
Milford bought the needed parts from an Alfa Romeo dealer in Zurich while paying off the loan. He got the car running, drove it for a bit in France and then brought the car home to Pennsylvania when he returned to the USA in 1957. The car was a dusty grey color when he got it. He drove the car for a while and then it sat for a time until he decided to go through the car completely. The car was then in a storage since 1957 until 1999, when Milford purchased a new home property with a shop building and the car was moved at that time from one part to another part of that same town … which is where It was picked it up after 55 years of storage.
Most exclusive of the post war 6C2500 line was the 6C2500 SS, built on a short 2.7 metre chassis and intended for exclusive coachbuilt bodywork. Total production of the 6C2500 SS was 458 units, of which 75 were built between 1939-1943 and 383 between 1947-1951.
This delightful coupe must be one of the handsomest post-war Alfa Romeos and would be a worthy addition to any connoisseur.
The last available unit got sold for approx € 850.000 and it was a street version and an old restoration without any period history in racing. At present there isn't any other unit available for sale.
See http://www.goodingco.com/vehicle/1950-alfa-romeo-6c-2500-ss/
We recommend the following videos:
https://www.youtube.com/watch?v=ZvA-e1kyykE
http://www.youtube.com/watch?v=jFWppkF2fQY
Contact us regarding this listing
Back to Top