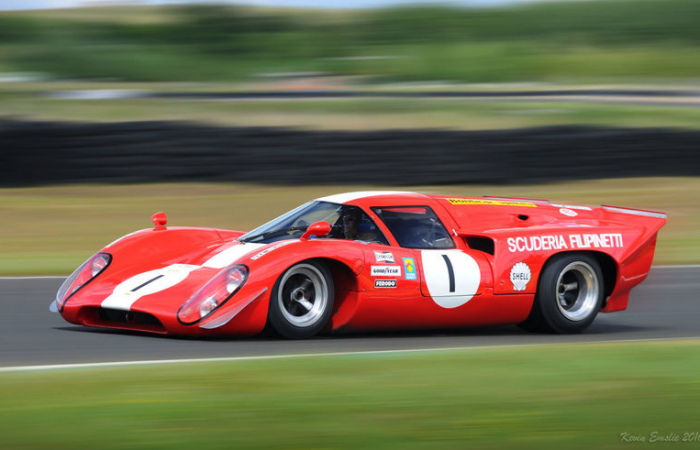 Details
SOLD

Body Type: Coupe
Trans: Choose an item
Fuel Type: Gas
Lola Cars International Ltd. was established in 1958 by Eric Broadley, a remarkably talented engineer and business man. The UK based company began their engineering developments building front-engine sports cars, quickly moving into Formula Junior and rapidly expanding their offerings into larger ventures. But it would be Broadleys work on the Lola Mk6 coupe fitted with a Ford engine that would capture the attention of Ford engineers, calling on him to contribute to the development of the Ford GT40. During an intense two-year period, the GT40 project tapped all of Broadley's sophisticated concepts including chassis build techniques and body design until he was finally able to free himself from his contract with Ford. Armed with increased monocoque construction knowledge and the experience of multi-million dollar racing budgets, Lola embarked on building one of their most successful and arguably most beautiful cars, the Lolo T70. Considered one of the most formidable competition cars of the period, the T70 offered phenomenal and reliable performance, world class chassis engineering, and superlative handling in part due to the sophisticated suspension but also due to high speed aerodynamic efficiency built into the stunning body design.
In the late 1990s, recognizing the increased interest in this series of vintage cars, Lola announced plans to build a select number of T70 cars, continuing the line under the MkIII designation as a second series 3B model using original tooling and specifications from the period. Between 2006 and 2010 six cars were completed, with two more following. The first car was retained for Lola internal promotional use (HU76/159) and the second, this car (HU76/160) sold as the first official customer car. The build was so accurate and detailed that the cars were immediately accepted to compete in even the most stringent of racing venues with FIA approval, a tribute to the fanatical level of precision construction Lola put into these continuation cars.
In 2006, HU76/160 was delivered to the father and son team of Esmond and Andrew Smith at Le Mans Classic wearing the Scuderia Filipinetti livery it wears today. Having been fastidiously maintained on a no-expense-spared basis by Gary Pearson, son Andrew raced the car in the World Sportscar Masters from 2006-2009 with many outright wins and podium finishes. The car also participated at the Le Mans 2008 parade for the Lola 50thanniversary. Shortly after, the car was comprehensively rebuilt by Pearson to a very high standard and subsequently sold to the current owner.
During the Pearson rebuild, the car was completed with a Steve Warrior 5.0 liter Chevrolet small block engine with carburetors (less than 1.5 hours of engine time currently logged), LG-600 gearbox, new fuel cells, rebuilt and crack tested suspension, and rebuilt brakes. Throughout 2017, this exceptionally well-prepared Lola was serviced with professional attention given to all systems including significant electrical work replacing the main and front nose wiring harnesses, instrument wiring harness, new battery cables, new Farington instruments – tachometer, oil pressure gauge, oil temperature gauge, water temperature gauge, and fuel pressure gauge. New Honeywell micro switches, ETA Milspec breakers, TRM relays, LED indicator warning lights, and fuse modules were also installed. A new quick-fill fuel cap was installed, four new springs, radiator fans, interior fans, a complete gearbox mounted alternator kit was purchased and installed, and a Holley hi-capacity fuel pump was fitted and tested for operation. Finally a new flywheel and a custom set of silencers were installed. Service invoices included with the car total in excess of $50,000.00 including dyno testing in preparation for various events. In addition to the 2016 FIA HTP, the car is accompanied by two sets of wheels and tires.
Today the car is in excellent cosmetic condition, having been treated to exceptional factory build quality from assembly in 2006 and further amazing professional care and mechanical servicing by racing specialists. The factory applied Filipinetti livery is stunning, and the car displays exceptional attention to detail not ordinarily afforded to vintage race cars. The legendary T70 bodywork is beautifully constructed from original factory molds and features all the wonderful details and trim one might expect from a car of the original period. The paintwork is in very nice condition with only a handful of small blemishes, typical of moderate race use. The wheels and tires are in excellent condition, appropriately sized and tucked under the fluid aerodynamic body. The clear lenses, lighting, windscreen and side windows are also exemplary.
With the rear section exposed, the mechanical components, beautifully finished suspension, and spotless mechanical features further boast of the meticulous care afforded throughout the car. The engine compartment is beautifully detailed and extremely clean as well, featuring sonorous carburetor trumpets announcing the arrival of the very capable and powerful performance package assembled by Steve Warrior. The car is event ready with full safety equipment, but as with all racecars we recommend a professional race shop perform an inspection and review all systems before driving in a competition setting.
This is a fantastic opportunity to acquire a turnkey example of one of the most stunning competition cars in the history of professional motorsports construction, the incomparable Lola T70. The exceptional condition, known ownership history since new, and the historic importance of factory construction figure prominently in the rarity and usability of this exceptional continuation Mark III.
Contact us regarding this listing
Back to Top