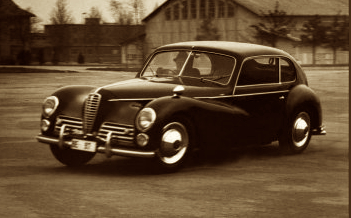 Details
SOLD

Trans: Choose an item
Fuel Type: Gas
A development of the prewar 6C 2300 and 2500, this 6C 2500 Freccia D'Oro is the ultimate variant of the old style elegant, glamorous, and luxurious Alfa Romeos that were developed under the guidance of Vittorio Jano and Wifredo Ricart, who would become in the 50′s the "wizard" of Pegaso cars.
The 6C 2500 Freccia d'Oro (Golden Arrow) was the first postwar Alfa Romeo it was built. The car was a two doors bodystyle based on the 6C 2500 Sport. It has wheelbase of 3,000 millimetres (120 in) and it weights 1,550 kilograms (3,420 lb). With 4-speed manual gearbox this 90 bhp (67 kW) car could achieve top speed of 155 kilometres per hour (96 mph).
The specification is accordingly modern, including dual overhead cam engine and independent suspension all round. Their combination of sophisticated engineering, durability, and attractive bodywork has ensured that they are and have always been highly sought after by collectors. Three variants were built postwar, including the two closed versions, one by Touring, one by Pininfarina and one in house by Alfa Romeo. The International Register of the Alfa Romeo 6C 2500 indicates that only 680 6C2500 Frecia D'Oro coupe were made during the postwar period, making this a very rare find indeed. The Freccia D'Oro was one of the most expensive cars in existence back in the 50′s at 3.200.000 Lire and very famous people of the jet set had one unit, like King Farouk of Egypt, Prince Ali Khan, actress Rita Hayworth, actor Tyrone Power, Prince Rainier of Monaco, etc….
This particular example was manufactured in June 1950 and delivered new to the Alfa Romeo dealer at that time, Bilaktiebolaget Imperia, Stockholm (Sweden). It first arrived in Stockholm in April 1951, where it spent its entire life until today. The car was since the sixties in a classic car museum called Svedinos Bilmuseum, until it was bought by a local collector closed to Malmö. We have the original invoice from Alfa Romeo factory to the first owner dated 1951.
This original and elegant automobile is matching numbers and totally unmolested, apart from the water cooler. 63 of these cars are known to exist according to the Alfa Romeo 6C Freccia D'Oro registry http://www.frecciadoro.com, some of them so deteriorated that are not restorable any more.
Here a prof of the car at the Museum http://www.youtube.com/watch?v=yFy2KdAdoGQ
The car is still wearing its original and elegant interior, as well as all the emblems, spare wheel and paint.
It is a great opportunity to acquire what is already considered a postwar automobile icon of the most prestigious car manufacturer of its time.
We recommend the following videoclips:
Contact us regarding this listing
Back to Top