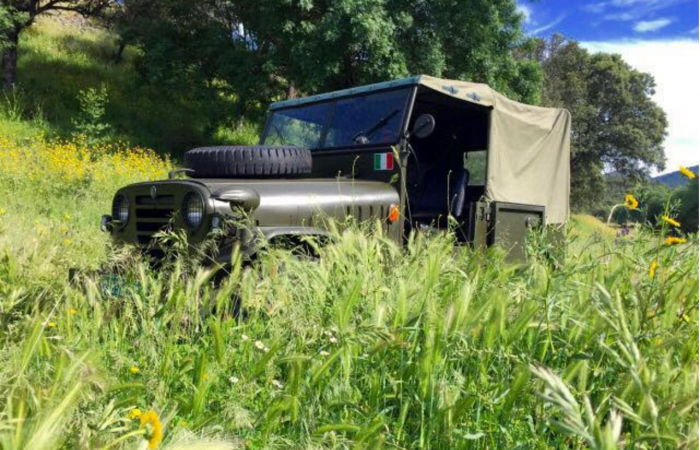 Details
SOLD

Year Built: 1951
Engine Size: 1.9L
Trans: Manual
Fuel Type: Gas
The Alfa Romeo 1900 M (better known by its nickname Alfa Romeo Matta, meaning "mad") is a four-wheel drive utility vehicle produced by Italian car manufacturer Alfa Romeo from 1951 to 1954. Developed on request of the Italian Ministry of Defence, it was made in both military (AR 51).
The AR 51 (Autovettura da Ricognizione, "Reconnaissance Car") was the result of the request of a light reconnaissance vehicle for use on paved, unpaved and mountain roads. A civilian version, the AR 52, was later developed fron the military AR 51; several variants were made, adapted for use in agriculture, firefighting, and road maintenance.
The Matta was built from 1952 to 1954, with 2,007 military AR 51.
The Matta was powered by a 1884 cc twin cam, 8-valve inline-four engine with dry sump lubrication. The cylinder head was aluminium and featured hemispherical combustion chambers, while the engine block was cast iron. Output was 65 PS (48 kW; 64 hp) at 4,400 rpm and a Top speed of 105 km/h.
Technical data 1900 M AR 51
Engine: 4-cylinder-inline engine (four-stroke), front-mounted
Displacement: 1,884 cc (115.0 cu in)
Bore x Stroke: 82.5 mm (3.2 in) x 88 mm (3.5 in)
Max. Power @ rpm: 65 PS (47.8 kW; 64.1 bhp) @ 4400
Max. Torque @ rpm: 12.5 kg·m (123 N·m; 90 lb·ft) @ 2500
Compression Ratio: 7:1
Fuel system: 1 Solex carburetor 33 PBIC, mechanical fuel pump
Valvetrain: DOHC, double chain
Cooling: Water
Gearbox: 4 forward, 1 reverse + dual range
Front suspension: Independent front suspension with double unequal length wishbones
Rear suspension:: Live rear axle
Brakes: Hydraulic drum brakes, mechanical handbrake on driveshaft
Body: Steel body with separate ladder chassis
Track front/rear: 1,300 mm (51.2 in) / 1,300 mm (51.2 in)
Wheelbase: 2,200 mm (86.6 in)
Length x Width x Height: 3,520 mm (138.6 in) x 1,575 mm (62.0 in) x 1,820 mm (71.7 in)
Ground clearance: 20.5 cm (8.1 in)
Max water deep: 70 cm (27.6 in)
Max slope: 120% (50 °)
Weight: 1,250 kg (2,755.8 lb)
Top speed: 105 km/h (65.2 mph)
4 cars entered the 1952 Mille Miglia which were in Military class: two Alfa Romeo 1900 M 'Matta' (AR51) and two Fiat Campagnola: here following their results:
114. 4M A. Costa – F. Verga (Alfa Romeo 1900 M 'Matta') 16:54:05 (4:44:20 later than winner, Giovanni Bracco)
157. 1M A. Marletta – E. Izzo (Fiat Campagnola) 17:35:55
217. 2M G. Livoti – A. Pagnone (Fiat Campagnola) 18:46:09
OUT. 3M Beltramini – Bruno (Alfa Romeo 1900 M 'Matta')
This makes this great car eligible to participate at the most selected and prestigious event.
This specific car got manufactured in 1951, being one of the earliest series. It spent 22 years at the ministry of defense before it got sold on 10/10/1973 to a civil private owner called Signor Luigino Pollesel of Tarzo-Treviso (Italy). Sig. Pollesel used it for 15 years. His son Oddone still remembers to have learned how to drive with this car. Then Sig. Pollisel sold it to Da Re Tranquillo of Fregona (Treviso) on 19/08/1998. On 25/07/2001 it got sold to Sig Claudio Dall'Antonia of San Pietro di Feletto (Treviso) who right after sold to Autieri (Associazione Nazionale Autieri d'Italia) and "Museo storico della motorizzazione" at Prato-Italy. This military museum sold it on 25/09/2003 to Signor Vito Oliva. Sig. Oliva used it as it was for several years and registered it on 25/10/2007 at the A.S.I. (Automoclub Storico Italiano) proving the total originality of the car. In 2004 Sig. Oliva started a frame offnut and bolt restoration of the AR51 and drove it very little in Italy until 21/01/2015 when it got exported to a car german dealer. It was never registered there and it got purchased a few months later by our company in August 2015 and then exported to Spain.
We recommend the following videoclips
Contact us regarding this listing
Back to Top