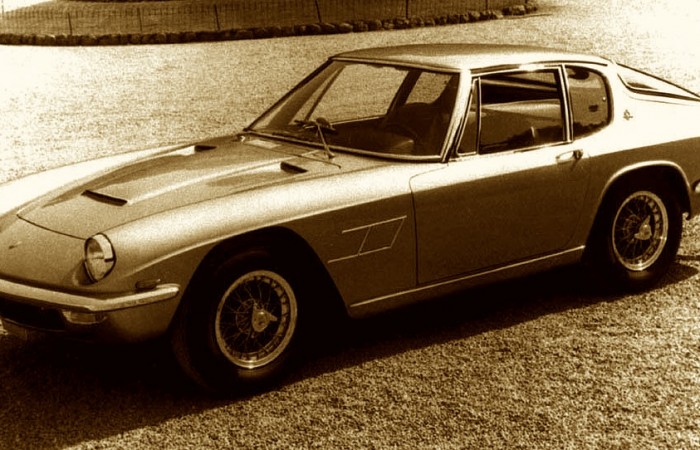 Details
SOLD

Body Type: Coupe , Sports
Dealer Location: Madrid
Year Built: 1967
Engine Size: 4.0L
Trans: Manual
Fuel Type: Gas
Ext color: red
Int color: blue
With beautiful alloy Frua coachwork and a fuel-injected twin-plug dual overhead cam inline-6 derived from Maserati's 250F Formula 1 race car engine, the Mistral is a beautiful, technically interesting, and underappreciated classic. The Mistral was introduced in 1963 in 3.7 liter form, making it among the first fuel-injected production cars, and was equipped with a 5-speed ZF transmission and disc brakes all round. In 1966, the powerplant was upgraded to a 4.0 liter unit, creating what is now the most sought-after variant of the car.
This particular car is a 4.0 liter example. It got sold when new (March 24th, 1967 according the available Maserati "certificate d'origine") to the company Rolma Automobili of Milan, Italy who drove it for a few years until. The car was then sold to Mr. Arlen Christensen, who brought it to Florida and registered it. It was then acquired back in 1985 by a classic car collector called Mr. Denton C Smith of Monroe, Georgia who had in storage until today. The car has never been unmolested since it was taken to the USA and the dust on it is the most faithful proof.
The engine runs good but it needs to be serviced, a new exhaust and some maintenance. The body is excellent, with even, consistent gaps and straight panels. The paintwork was done long ago to good standards and remains presentable overall, with a few chips and stress cracks in evidence. The chrome is still good with some pitting. The wheels are beautiful Borranis, with minimal deterioration of the finish on a couple spokes. The lights and glass are good.
The interior is still usable. The leather since to be the original while the dashboard is unrestored and is excellent considering this. The instruments are handsome and in good cosmetic shape. All appear to work correctly. The wood rimmed steering wheel is in good shape, although there are small hairline cracks in the varnish. The switches and controls are in good condition throughout. The carpets are usable and the hatch back provides great access to the generously-sized luggage compartment.
The engine compartment is correct throughout. The problematic Lucas injection was replaced by three more reliable set of 42mm Weber carburetors. The car appears unrestored but very solid.
This is an excellent opportunity to acquire an interesting, rare, and attractive classic Italian sports car. Undervalued for many years, classic Maseratis are starting to appreciate, and the Mistral is a fine way to experience a world-class classic Italian sports car with a racing-derived motor, coachbuilt Italian bodywork (often considered Frua's best work), and genuine rarity with about 800 examples produced. They continue to be undervalued, particularly compared to contemporary Ferraris such as the 330 GTC, examples of which are now trading for well over $800,000. This particular Mistral is complete with Borrani wheels, a beautiful original interior in blue and with its matching numbers engine.
Hier some price orientation of similar cars for sale at present:
http://www.anamera.com/en/detail/car/252642/index.html?no_cache=1&ret=63
http://www.carandclassic.co.uk/car/C448479
http://www.carandclassic.co.uk/car/C409906
We recommend the following videoclips:
Contact us regarding this listing
Back to Top