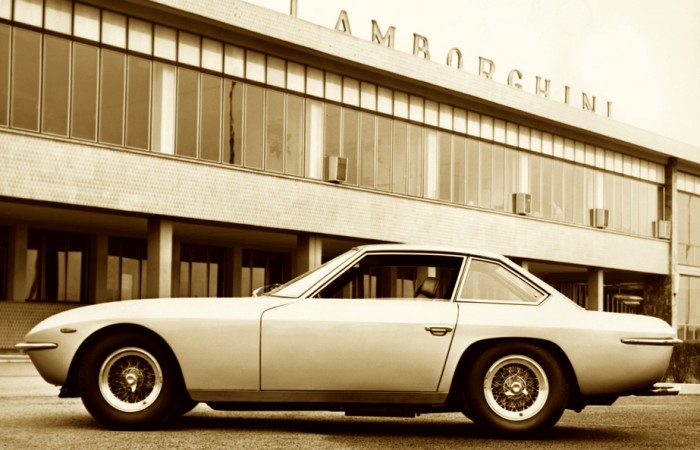 Details
SOLD

Body Type: Coupe
Dealer Location: Madrid
Engine Size: 4.0L
Trans: Manual
Fuel Type: Gas
Ext color: red
Int color: black
By the late 1960s, Lamborghini's 400GT 2+2 was looking a bit old fashioned, especially compared to the stunning Miura, and Carrozzeria Touring, who built the bodies of the 400GT 2+2, was in the midst of declaring bankruptcy. Thus, the car's replacement, the Islero, was introduced for the 1968 model year. Featuring an elegant, restrained, and much more modern aesthetic, the car looked more contemporary and retained the sophisticated mechanicals of its processor, including wonderful quad cam V12, 5-speed gearbox, and fully independent suspension. The car was 4.5 inches shorter and 65kg (143 pounds) lighter, meaning that performance was improved over the earlier car. The Islero's understated appearance meant that they were overlooked by most of the customers with large egos who bought the more exotic offerings from Sant'Agata, including even the outlandish Espada, but the Islero represented a sophisticated gentleman's express and it is no surprise that Ferruccio Lamborghini drove one. Just 225 examples were built, of which 125 were early cars such as this one, making them exceptionally rare. They are genuinely good cars to drive as well, and have been rapidly increasing in value as collectors start to pick up on their combination of thoroughbred Italian mechanicals, rarity, and restrained elegance.
This particular car was delivered by the factory under chassis number # 6051 and engine number #1944. It is confirmed to be a matching number's car. It was known by the factory as # 25.018 which means it was the 18th Islero produced. The body was delivered  from Marazzi to the factory on May, 3rd, 1968 and completed by the factory on 8th May, 1968 in light blue color with Tobacco interior.
After completion, this Islero was consigned to an unspecified italian destination on May 18th, 1968 and then to Germany in 1969. The car was then purchased by Randal Lunt of Los Angeles, CA from an used car lot. After that, It got sold to a pilot of Southern California called noel Romeo, who enjoyed it for a few years and then it went to Michael Reed of Juniper Speed, who sold it to another gentleman of Colorado called Mr. Michael Collins. Under Mr. Collins's ownership, the car underwent a very reasonable restoration between 2000 and 2004 (invoices available). Soon after that, Mr. Collins sold it to a gentleman of Nebraska, who had it for a short period of time and took it to the 2008 "Bella Macchina" meeting exhibition at Pocono (PA). Then it got sold to Mr. Michael Samuel of Blue Bell, PA. Then, the car went to Mr. Paul Rachette, a dealer of North Carolina called Carolina Auto Sports (Concord, NC). This dealer sold it right after (2008) to Mr. Douglas S. Roberts of Greene, Ohio, who owned it until April 2014. Then the car got sold through Fantasy Junction whom we bought it from.
Comments from the last long term owner Mr. Roberts:
"Interestingly, to me at least, was the story a friend of mine told me when I first brought the car home, still on my trailer. He told me about how in the early 70s his aunt's fiancé drove his Islero to Ohio to visit. This fellow was impressed by my then young (16 yr old) friend's car knowledge and allowed him to drive his Islero. "It was awesome!". I asked him what color it was, "light blue". Turns out the fiancé was a pilot from Southern California! Small word.
When I got the car I did a compression test and was happy to find it in good order. I think all was 165-175 if memory is correct. The past owner did note in his owners manual/parts book that when rebuilding the engine he boosted the compression a little to bring the engine up to S specs. Oil pressure is good, no overheating. Sounds terrific.
From memory of reading the receipts I have, I know a lot of work was done to this car. Engine, flywheel, clutch, air conditioning, wiring, suspension, brakes, carbs, ignition, ?? all had substantial money thrown at them."
It is well-documented with various documentation to support the car's history as outlined above and it comes with its original instruction manual book, jack and spare wheel.
We recommend the following videoclips:
Contact us regarding this listing
Back to Top