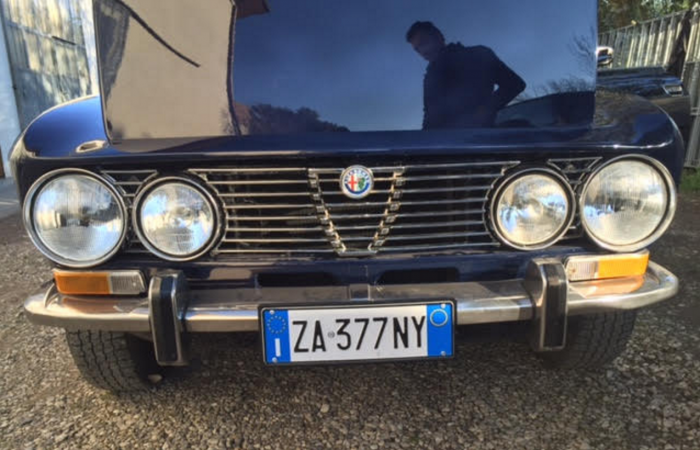 Videos
Details
sold

Dealer Location: Madrid
Trans: Choose an item
Fuel Type: Gas
Designed for Bertone by Giorgetto Giugiaro early in his long and illustrious career, the GTV was an immediate favorite from its introduction, initially as the Giulia Sprint GT in 1963. The restrained elegance and perfect proportions of these cars have aged beautifully and the cars survived for over 10 years with relatively light cosmetic changes but significant mechanical upgrades, including the eventual fitment of fuel injection and a 2.0 liter engine. The initial specification, which included 5-speed transmission and Alfa's excellent alloy twin-cam inline-4, remained relatively unchanged.
The biggest change occurred in 1969 with the elimination of the early "stepped" hood and the change of the nomenclature to GTV. Under the hood was another story all together. Over the years, the engine displacement grew which altered the GTV's character. The innovative high-revving, carbureted 1570 cc DOHC four (1600) was succeeded by a 1779 cc four (1750) with a SPICA mechanical fuel injection system in the GTV of 1969, and finally the displacement increase to 1962cc (2000) via an increase in bore in 1971.
This particular car has seen significant restorative work in recent years and looks closed to new. 45 years in the hands of its first owner (Sig. Giovanni Depaoli). He purchased it on 01/01/1971 and sold it on 28/09/2015 to a well reputed Italian collector who chromed the front grill and sold it to us without even using it so we could say it is a one owner car, something almost impossible to find.
The car makes a strong cosmetic presentation. The paint is glossy and free from significant wear or aging, and is a high quality job for a car of this value bracket. The body is straight overall and displays good panel fit and operation. The chrome trim is in good shape. The glass and lights are excellent throughout. The wheels are excellent.
The interior is excellent, with fresh upholstery and carpets.  The instruments and controls are in very good condition, and the wood is excellent. The headliner is also excellent and the overall impression of the interior is very strong. The engine was totally rebuilt according to the previous owner and so it looks like.
The engine compartment is in well-maintained condition. Considering this, it is in great shape. In general, it is correctly presented, with the highly desired carburetors. The trunk received new carpet and is in very good condition. The undercarriage is solid, dry, and free of corrosion. The seat pans appear to have been replaced and the workmanship was first rate.
This is a great opportunity to acquire a great-running unmodified GTV. Relatively inexpensive for most of their lives, many GTVs were neglected, a problem that is exacerbated by the fact that they are vulnerable to rust. This particular car is structurally sound.
We recommend the following videoclip:
Contact us regarding this listing
Back to Top