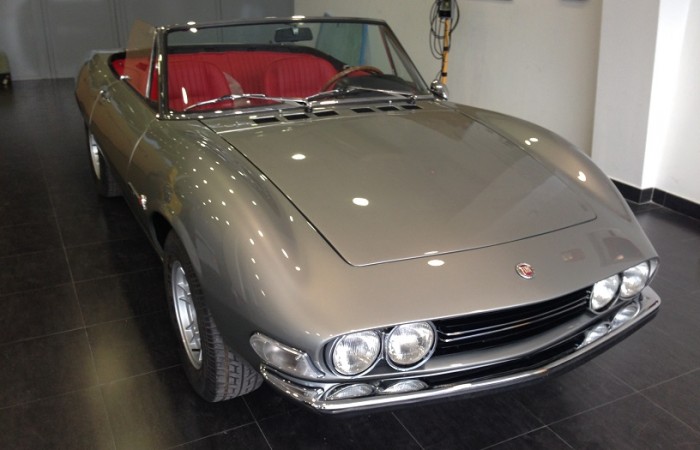 Details
SOLD

Body Type: Convertible
Dealer Location: Madrid
Year Built: 1971
Engine Size: 2.4L
Trans: Manual
Fuel Type: Gas
Ext color: Silver
Int color: Red
COMING SOON
Fiat introduced its 2-liter Dino at the 1966 Turin Motor Show, a collaboration between the giant Italian automaker and its chic counterpart, Ferrari. Available as either a curvy, open Spider by Pininfarina or a smart-looking 2+2 coupe designed by Bertone, the car evolved into a 2.4-liter model by 1970. Ferrari eventually assumed production, and quality improved over the Dino's run. By 1972, more than 7,600 Fiat Dinos of all stripes had been built, the rarest of them the 2.4 Spider, with just 424 produced. It is these 2.4 Spiders that are the most collectible of the bunch.
The name is derived from Enzo Ferrari's son Alfredo, nicknamed Dino, who collaborated in the mid-1950s with the legendary engineer Vittorio Jano on a lightweight aluminum V6. A decade later, Ferrari planned to use this engine to power its F2 race cars. Homologation was necessary, however, and Fiat, with its mass-production capabilities, was a natural fit to get the engine into as many cars as such homologation required, in this case 500. But a Ferrari powerplant couldn't just be shoved into any old Fiat 850 or mundane Fiat 2300 sedan. An entirely new car was required.
The two entities enlisted Pininfarina to design the open Spider, while Bertone was responsible for the coupe, and in 1966, the former appeared on the Fiat stand at the Turin Motor Show; the latter would debut a year later in Geneva. Both body styles are uniquely proportioned, front-engine, rear-wheel-drive cars. While the Spider's looks received mixed reviews, the coupe's reception was much more favorable as it fit its skin a bit better thanks to its increased 2+2 wheelbase.
The massaged, road-going 2.0-liter V6 delivered 160 hp and was mated to a Ferrari 5-speed transmission. It was the same powerplant that Ferrari employed in its own mid-engined 206 Dino GT. By 1969, the engine had evolved into a 180-hp, cast-iron, 2.4-liter unit that was paired with a more robust ZF transmission. While Fiat built the earlier cars, which were noted for some quality control foibles, the later cars were built in-house by Ferrari, alongside their own machines, now called the 246 Dino GT. The in-house versions are regarded as more reliable.
Other changes besides the increase in displacement included a switch from a live rear axle and leaf springs to a coil-sprung independent suspension, a larger radiator, a cable-operated clutch, an electric brake servo, and larger tires. The added power and the relatively sophisticated suspension set-up brought the lithe Dino to life on a twisty road. The cars were lauded in period for their performance in such venues, especially as they were essentially Ferraris underneath, but at a fraction of the cost.
With a gentle clatter from the fuel pump and distant whir from the starter motor, the orchestral 2.4-liter six pot erupts into life. With a low bass burble below 400 rpm, the big triple twin-choke Webers fluff a little at low revs. Above 5,000, the whine of the cams, thrash of the chains and sucking of the carbs conspire to produce a spine-tingling bellow, building to an ear-piercing crescendo as the rev counter spirals past six grand towards the magic 7,500 red line. Even accelerating in top gear from low revs, there's a seamless delivery of power."
All mechanics on this car are in perfect condition. Both cylinder heads were rebuilt 8 years ago and the car has done less than 5.000 km since. The engine runs superb and is the best 2.4 we have driven including several 2400 coupes and 246 GT's. The 5-speed ZF gearbox is precise and shifts flawlessly. Suspension, brakes and steering are fully rebuilt and the car drives smoothly and precise with no sqeaks or rattles from suspension whatsoever. New exhausts, new paint to the highest standards, restored wheels, generally checked up to the finest details, etc…
The body is very straight with no dents. Fitting of panels and doors are excellent and with the even gaps all around that are typical for an unmolested, unwelded and accident free original car in good condition. The original upholstery shows no wear and both seats are in excellent shape. Wood veneer on dashborad is in superb conditions.
Dino production ceased in June 1972, in large part due to a culmination of lagging sales and the energy crisis. In all, 7,651 cars were built (1,159 2.0 Spiders, 3,670 2.0 coupes; 424 2.4 Spiders and 2,398 2.4 coupes) .
The car exhibited here is a clear matching numbers car, never crashed or sever damaged. This is probably the last chance to acquire a rear and desirable blue chip at a reasonable price. Dino's 2.4 convertibles became very hard to find and they are meant to be the successor of his successful brothers, the Dino 246 GT or the Stratos, which share the same engine and which was assembled by the Ferrari Factory.
We only need to look at the past auction results and private sales to certify the price evolution of all these three brothers in order to find out what the evolution will turn out to be.
Here some exemples of similar cars for sale on internet:
http://www.autoscout24.eu/Details.aspx?id=239572074&cd=635176088700000000&asrc=st|fs
http://www.autoscout24.eu/Details.aspx?id=234825536&cd=635083576240000000&asrc=st|fs
We recommend these videoclips:
Contact us regarding this listing
Back to Top