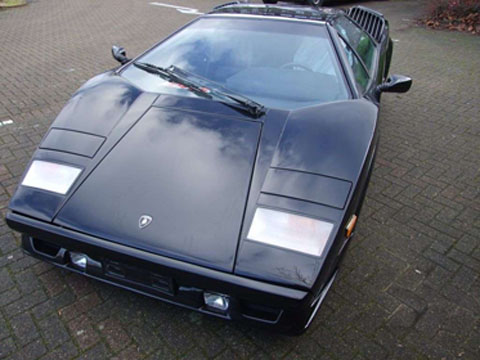 Details
SOLD

Year Built: 1990
Trans: Choose an item
Fuel Type: Gas
The 25th Anniversary, or Anniversario in Italian, was the last and most potent Countach made. 627 examples were produced between 1988 and 1990. This last-of-line model is largely based on the Quattrovalvole 5000S, incorporating its 48 Valve 455BHP engine. Taking the 5000S further, the Anniversary has new redesigned aerodynamics for cooling and downforce. Additionally, new brake ducts are incorporated into the rear sills & front dam. The redesigned front and rear kevlar hoods keep to the agressive duct theme as does the optional rear wing. More luxuries such as electric windows and power seats came as standard options. Over 500 points differed from the previous model. 
The featured car is one of the latest 25th Anniversaries built (chassis 12004) in 1990, it is one of the very few cars factory fitted with a fuel injection. This is a very low mileage and stunningly beautiful black body on black hide example which has covered a mere 9100km (5700 miles). The mechanicals, body and interior are pristine, consistent with such a low mileage. The car needs nothing and is ready to be enjoyed. The chassis num
ber is 12004 and the car was manufactured in 1990. This is a very rare opportunity to acquire a collectible newish 25th Anniversary Countach, 
certainly the most enjoyable Countach produced. 
We recommend the following videos:
Contact us regarding this listing
Back to Top