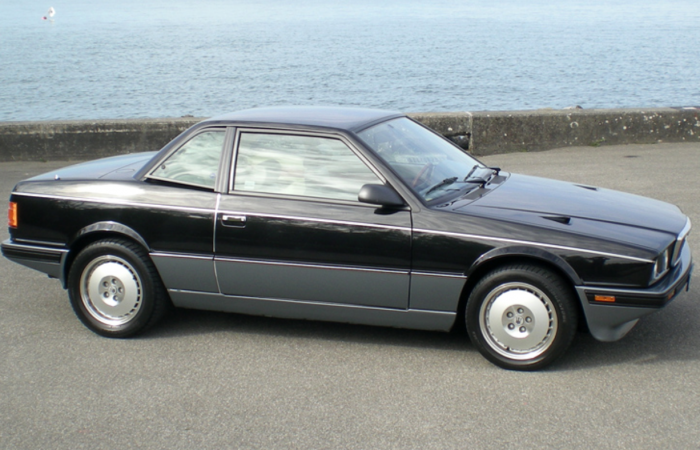 Details
The Classic Road Collection Car

Dealer Location: Madrid
Trans: Choose an item
Fuel Type: Gas
The Maserati Karif (Tipo 339) is a luxury coupé produced by Maserati between 1988 and 1993. It was designed to be luxurious, but also sporty and agile to allow the driver to "feel like a racing driver again or for the first time". At the car's unveiling, Alejandro de Tomaso declared a very limited production run of 250 examples. Of these planned 250, only 222 were actually sold.
In a throwback to Maserati's earlier naming practices for two-seater GTs, the car was named after the wind called "Karif", which blows South West across the Gulf of Aden at Berbera, Somalia.
The Karif was built on the same shortened chassis as the Zagato-bodied Maserati Spyder model, adding a fixed notchback coupé roof. It used the most powerful Maserati Biturbo engine: the AM473, a 2.8 L 90° V6 engine with 3 valves per cylinder, producing 285 PS (210 kW) at 5500 rpm. According to Maserati the Karif could reach 100 km/h (62 mph) from a standstill in 4.8 seconds, and achieve a top speed of over 255 km/h (158 mph). Other sources claim 248 PS (182 kW), and 224 PS (165 kW) for the later catalyzed model. With these lower power outputs, claimed top speeds were 233 and 230 km/h (145 and 143 mph) respectively.
This extract from a Karif sales brochure gives one an idea of its appeal "The Maserati Karif: an exceptional road 'animal', an exciting driving experience, an invitation to feel like a racing driver again or for the first time: the subtle pleasure of feeling the throb of so many horses and of knowing you can control them". It possessed all the luxury trimmings of the Biturbo and was based on the short wheelbase chassis, 2400mm compared to the Biturbo's 2514mm, of Zagato's pretty looking spyder, but with a fixed roof.The dashboard is upholstered in padded leather to protect the occupants' head and knees in case of an accident.The interior of the Karif was same blend of hand-stitched leather and polished wood interior as the standard Biturbo but with a polished wood-rimmed steering wheel. The shorter wheelbase meant that the Karif was primarily a two-seater but there was seating in the rear for two young children. With the spare wheel stored under the boot and the battery in the engine bay (as with all Biturbos) there is plenty of luggage space, approx. 14 cu.ft., which makes this car the ideal tourer. Standard equipment included power steering, power-operated front seats, automatic air-conditioning system, electric windows and exterior rearview mirrors, central locking, remote power fuel cap and boot release, fully adjustable steering wheel, alloy wheels and a dash mounted luxury clock!! If the Karif was no design classic it was certainly no slouch for its twin-turbocharged 2.8-litre V6 produced some 285 bhp, without a catalytic convertor, giving it a top speed of over 155 mph. Sadly cars fitted with a catalytic convertor only developed 225 bhp (top speed 143 mph).
The Karif with its roof and the resultant stronger structure gave the car the extra torsional stiffness required to cope with the new, more powerful 285 bhp engine. This lack of torsional stiffness is the main reason why the later more powerful 24-valve engines were never installed in the Spyders.
The front suspension of the Karif was fitted with the new 'Mecannica Attiva' suspension system developed by Maserati. This mechanism used a system of interacting levers that ensured the front wheels not only remained completely square relative to the road surface, but that the lower supension and steering arms always remained parallel giving greater stability on cornering. Braking was upgraded with the use of floating calipers and ventilated discs.
The rear suspension consisted of semi-trailing arms mounted on a subframe with Bilstein hydraulic shock absorbers with coil springs. The handbrake operated two drum brakes in the centre of the rear discs.
A combination of high performance and rarity value, with only 221 cars produced, means the Karif is a sure bet to become highly collectable in the coming years and even if it doesn't appreciate in value it will always be a "a great car to own and drive!" (Keith Woollard).
This particular car was delivered to Japan, where it spent its entire life until it was purchased by a Dutch dealer and right after sold to our company in February 2016. It was never crashed and comes with its original set of tools. It is believed to have been driven only 65.000 kms.
We recommend the following videoclips:
Contact us regarding this listing
Back to Top