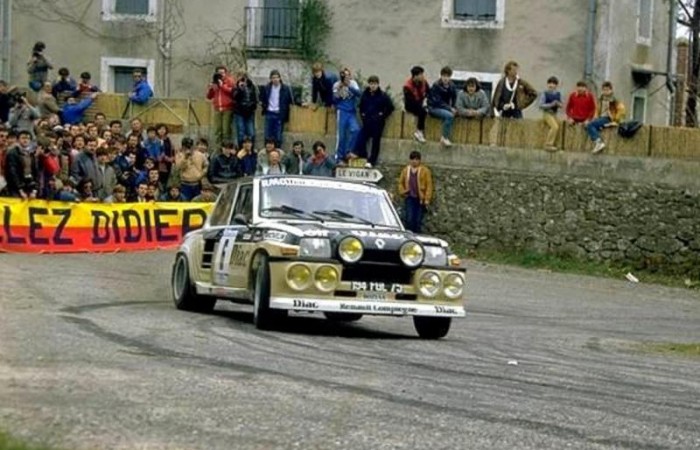 Videos
Details
The Classic Road Collection car

Year Built: 1985
Trans: Choose an item
Fuel Type: Gas
The first car wearing the number plate 194FGL75 from Chatriot entered the french rally championship at the Criterium de Touraine with the number 3, where it had to abandone due to an electrical problem. It was then driven by Chatriot and it was severely dammaged (burned) at the 1985 Rally Garrigues wearing the numbers 6 and 1. After that, the DIAC Renault Team rebuilt the car with a brand new works mechanical kit and an original Maxi shell from Renault sport. They used it as replacement car in 1986. In that year, Mr Chatriot participated again with this car at the 1986 Rally de Vinho Madeira (Portugal) wearing the number 2 and fighting for the European rally championship. Mr. Chatriot then had another accident with this car training at the 1986 Rally du Var (the evening before the rally). After that, Renault Diac sold the car as the Group B era was soon later abolished. The car was then sold from Renault Diac to Mr. Gerard Roussel who used its FGL mechanical and electrical parts to built a 4WD (Renault 5 Turbo 4WD Fouya livery). For that purpose, he used a Renault 5 Turbo TDC chassis.
-          In 1987 , the mechanical and electrical systems of the FGL (engine, gearbox, steering, suspensions, brakes, dashboard, coolling system, wheels, radiators, etc.. so everyghing except for the shell), mounted on a TDC shell, won the French Rallycross Championship being still back then a rear wheel drive and wearing the Fouya livery.
-          At the end of 1987, the car, still using the heart of the FGL, was transformed by Mr Roussel to 4WD. First, using a VW Baja Buggy 4WD system and then using a Peugeot limited slip front differential.
-          In 1988, the car won the 24h de Chamonix with Jean Ragnotti and Gérard Roussel and finished 3rd at the French Rallycross Championship.
-          In order for Renault to award Mr Roussel for winning the 24 hours of Chamonix together with Jean Ragnotti,  Mr Landon , Chief of Renault Sport Rallye team, honored Mr Roussel with a brand new original Maxi Turbo shell.
-           In 1989, the car took place for the last time at the French Rallycross Championship finishing 3rd.
At the end of 1989, Mr Roussel sold to Mr Mark Alexander the FGL, the TDC 4WD Fouya with the FGL mechanics, lots of original parts and together with the brand new original Maxi 5 shell that he had received by Mr Landon of Renault Sport, all well documented with the original FGL carte gris.
Mr Alexander then traded with Mr Joel Rauld, a french rally driver, part of that package, which included an uncomplete and undocumented ex Renault 5 TDC 4WD shell (not a Maxi 5 one but a TDC ex Roussel where the FGL mechanical and electrical parts were mounted) and some other remaining mechanical parts ex Roussel. He traded it for a large amount of original Maxi 5 parts to rebuilt the FGL to the highest standard. Most of  these parts are today part of the FGL spare parts package, including a complete set of suspension arms, a complete set of magnesium calipers, clutches, steering wheels, steering rack, water cooler, radiator, air cleaners, lights, filters, springs, socks, transmissions, wet and dry speedily wheels, etc…… The original FGL parts were used to rebuilt again the 194 FGL 75 car, which included the brand new original Maxi 5 Renault sport shell, given by Mr Patrick Landon to Mr Roussel, together with all the original mechanical parts and all the original electronics  from the original FGL and obviously together with the original FGL french title "carte gris".
Mr. Marc Alexander, restored the car completely at the very prestigious race and rally car's specialist Mr. Patrick Legeay (Legeay Motor Sport). Once fully rebuilt to the highest standard, it got sold to a very wealthy Group B rally car collector of Paris, who was forced to sell his entire collection due to severe healthy problems and who unfortunately passed away a few months after the sell. This unit got sold directly by this gentleman and Parisian collector to a well known UK Rally competitor, Mr. James Hoseason. Mr James Hoseason imported it in the UK and invested two years into a total nut and bold rebuild to prepare the car for competing in Europe with the slowly sideways organisation. Mr Hoseason then moved away to New Zealand before having a chance to use the car in anger, passing the legacy onto Classic Road.
Before the car left France to its new home in the UK, the car was inspected and certified by a very well known french expert (once in 1990 and then for the second time in 2002) who certified its full originality in terms of its physical integrity, its rally passed history, its score in the french and world championships and its registration documents. This expertise gave it a valuation of 1.500.000 French francs (1990) and of €228.000 (2002).
Everything on the car is fully original, original Maxi turbo chassis, original carbon kevlar body, matter rollcage, original engine (original crankshaft, head,  extremly rare and original pistons with its oil helical gallery inside them, original rods, etc) suspensions, interior, Maxi turbo chassis number, number plates and papers from Renault Sport ex Chatriot, original Maxi turbo engine still wearing the Renault sport original plate, etc…. There were approximately 11 Maxi Turbo cars built. Additionally to that, there were another 9 complete cars disassembled for spare parts to service and assist the mounted units. From those which remained for spare parts and, when the Group B era reached its end, the remaining spare parts served to assemble the last Maxis.
Some cars were converted and used as 4X4 (3 units) and were very successful rallying in gravel.
Last Renault 5 Turbo ex works rally cars sold at Artcurial auction broke sales record at USD 544,443. See link http://blog.hemmings.com/index.php/tag/renault-r5-turbo/
and
USD 537.000 (€ 476.000). See link http://rmsothebys.com/mc16/monaco/lots/1982-renault-5-turbo-group-4/1078911
None of these two cars were original TDC but upgraded Turbo cars to TDC version with rally history so nothing compartable to a real Maxi Turbo.
We recommend the following videos:
Contact us regarding this listing
Back to Top