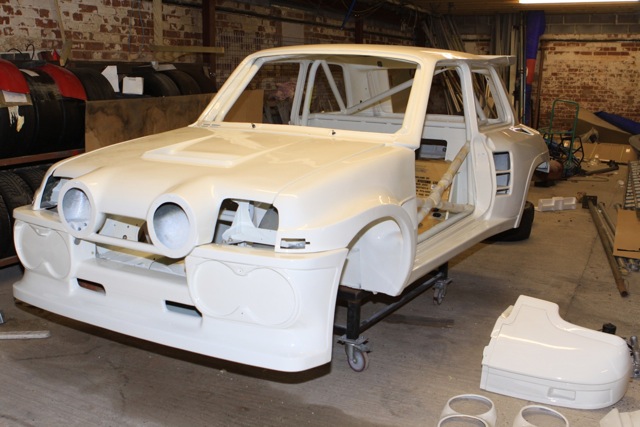 Details
Sold

Year Built: 1983
Trans: Choose an item
Fuel Type: Gas
Renault 5 Maxi turbo look body with Tour de Corse engine, gearbox and suspensions, all very professionally built to the highest standards.The car is 90% complete and is the best Renault 5 Turbo mid-engine version, the Maxi look with the most reliable TDC a great base to go rallying with a strongly reinforced shell and a very powerful and most reliable TDC engine.
- TDC original Waste Gate
- TDC original exhaust pipe
- TDC original exhaust collectors
- TDC new Bilstein suspensions
- TDC suspension arms
- Brand new TDC water cooler with double air cooling fans
- 4 Gotti wheels with tyres
- Brand new dry sump oil pump
- TDC dry sump
- TDC transmission
- TDC clutch
- Maxi/TDC front
- Renault 5 main front lights, tail lights and Maxi Turbo turn lights
- TDC engine starter (recently rebuilt)
- TDC original Water/air intercooler
- Maxi Turbo brand new homologated Fuel tanks
- Brand new homologated roll bar
- Shell has been bead-blasted, and stripped. It has a full FIA certified steel, Multi-point Roll Cage by Custom Cages. It has every TdC strenghening bracket hand made and welded in as per the Tdc Blue Book. It has a brand new Alcon bias pedal box built into the floor *as per TdC Maxi Blue book specs). Shell has full TdC Maxi Body Kit and has been newly painted in Renault Gloss white in two-pack paint. Two doors available.
- Brembo brakes. 4 New Alcon Discs, 4 AP Pro 5000 Calipers (4 spot) with TDC specifcations Hangers
- Dampers are brand new and are copies of a Maxi Dampers, including the valving. These were copied by Bilstein.
- Brand new Renault Sport gearbox with slip differential
- Drive Shaft original
- Steering rack
- Brand new TDC dry sump oil tank
- Maxi Gearbox hanger, Dry sump spacer, spark capacitor, and many other miscellaneous
- Engine was built new by Mass Racing Engines in the UK and Dyno'd there. It made just under 280 HP on Standard Unleaded Fuel (using Motec and a experiemental maniford). It should go to 310 Hp on 109 octane. It is a cast, but nitrided crank. Arrow Pistons and Arrow Steel Rods. Maxi Cam, Maxi Displacement, Maxi Dry Sump, Maxi Valves (Sodium Filled), Polished and Ported Head. It comes complete. The Motec ECU is not available.
It is the cheapest option to go rallying with an icon of the rally car history. All at a fraction of the price of a real Maxi or TDC.
The car comes with Turbo 1 papers
We recommend the following videos:
Contact us regarding this listing
Back to Top