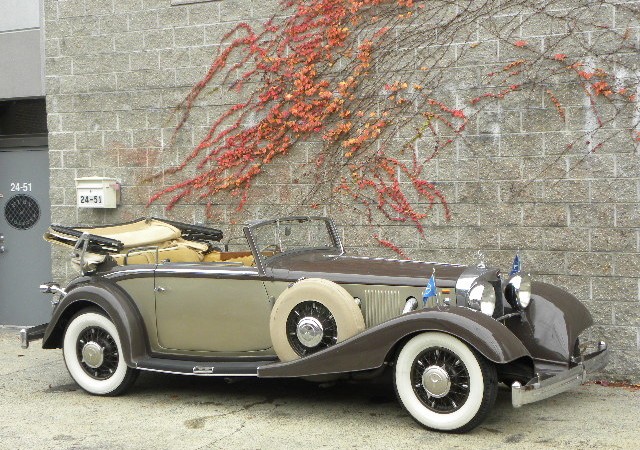 Details
SOLD

Year Built: 1935
Trans: Choose an item
Fuel Type: Gas
The Mercedes 500K (type W29) is a sports car built by Mercedes-Benz between 1934 and 1936, and first exhibited at the 1934 Berlin Motor Show.[1] It carried the factory designation W29.[2] Distinguished from the 500 sedan by the "K" in its name which denoted the kompressor (supercharger) only fitted to the sports cars, it succeeded the Mercedes-Benz 380 which had been introduced only the previous year, using a larger, more powerful engine and more opulent coachwork to meet customers' demands for greater luxury and performance.[3][4]
The 500K used the same independent suspension setup as had been introduced on the 380, with a double wishbone front axle, double-joint swing axle at the rear, and separate wheel location, coil springs and damping, a world first.[1][3] Consequently it was a more comfortable and better handling car than Mercedes' previous S/SS/SSK generation of roadsters from the 1920s, and offered greater appeal to buyers, particularly the growing number of well-heeled female drivers of the time.[1]
Pressing the throttle pedal fully engaged the Roots supercharger,[1] inducing the five litre straight eight engine to produce up to 160 horsepower (120 kW) and making the car capable of over 160 kilometres per hour (100 mph), while consuming fuel at the rate of up to 30 l/100 km (9.4 mpg-imp; 7.8 mpg-US) as it did so.[1][4]
Three different chassis and eight bodies were available for customers;[1][4] the two longer "B" and "C" four seat cabriolet versions rode on a wheelbase of 3,290 mm (129.5 in), and would later be used on other sedan and touring car models.[1] The short "A" chassis, with a 2,980 mm (117.3 in) wheelbase, underpinned the two-seater models: the Motorway Courier, and the 1936 Special Roadster which offered the highest performance.[1][5] All models featured such advanced equipment as safety glass, hydraulic brakes, and a 12-volt electrical system sufficient to bear the load of the electric windscreen wipers, door locks, and indicators.[4]
The combined production of the 500K was 342 cars, including 29 Special Roadsters during its two years in production.
106 of the 342 units built were the so called "cabriolet B" and approximately 80 of them had the so called and desirable Sildenfingen body.
This is the short history of this vehicle. More to come.
- car sold as new back in 1935, through the UK Mercedes-Benz dealer, to a very wealthy English family in the UK.
- born in black color (painting code 872) with hell beige color inside (code LE619)
- anytime after the second world war and before 1965, the car was exported to the Netherlands
- in 1968 it was exported from Netherlands to a classic car dealer located at Illinois (USA)
- in 1969 the car was sold from Illinois to a famous doctor established in California who kept the car since then and until he passed away last year
Contact us regarding this listing
Back to Top