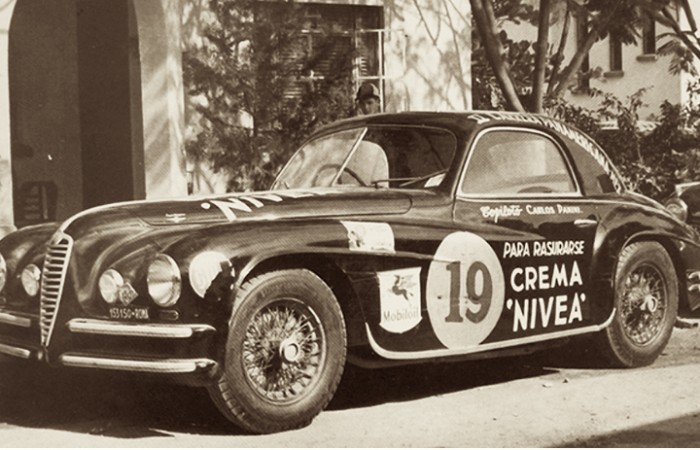 Details
The Classic Road Collection Car

Body Type: Coupe
Dealer Location: Madrid
Trans: Manual
Fuel Type: Gas
Ext color: black
Int color: black
A development of the prewar 6C 2300 and 2500, this 6C 2500 Super Sport is the ultimate variant of the old style elegant, glamorous, and luxurious Alfa Romeos that were developed under the guidance of Vittorio Jano and Wilfredo Ricart. The specification is accordingly modern, including dual overhead cam engine and independent suspension all round. Alfa Romeo ambitiously raced the 6C 2300 and 2500 following their introduction, amassing an impressive string of victories and podium finishes including 1-2 in the 1937 Mille Miglia, 1-2-3 in the 1937 6 hour Targa Abruzzo at Pescara backed up by another Pescara win in 1938. Successful races continued after the cessation of WWII hostilities, including an overall win in the 1950 Targa Florio.
The most technically potent of several 6C 2500 models was the Super Sport, built on the 2,700mm wheelbase. With three Weber carburetors it gave 110hp even on the low octane fuel available in Europe at the time. The 6C 2500's relatively stiff frame and 4-wheel independent suspension delivered this power to the road much better than the typically cart-sprung solid axle cars of the day. The supple suspensions were easier on drivers and passengers, important both in preserving a competitor's alertness at the end of the Mille Miglia and to the owner of a Gran Turismo Alfa at the end of a road trip to Cannes. Their combination of sophisticated engineering, durability, and attractive bodywork has ensured that they are, and have always been, highly sought after by collectors and performance minded enthusiasts. Three variants were built postwar, including the two closed versions, one by Carrozzeria Touring of Milan, and one in house by Alfa Romeo.
This particular car, has probably experienced the most interesting history of the rare and desirable super sport Alfas bodied by the most prestigious "carrozziere" Touring. Apart from the history behind the car which makes this Alfa Icon an unique car, it is one of the 19 Touring Coupe Airlux ever made.
This Super Sport unit has been built on the desirable 2,700mm "short" chassis.
The car was sold on November 11th, 1949 to a wealthy entrepreneur of Milan called Mr. Augusto Giussani, registering the car in Milan under the number plate 137986MI who owned it for short period of time. Mr. Giussani hardly used it on weekends and kept the car safely parked at his luxurious building located at Via Vigli 15 of Milan. He then sold it on September 5th, 1951 to a wealthy entrepreneur and pilot "aviatore" and the first man to open an airline in Mexico. His name, Sig. Carlo Panini Binossi. Sig Panini registered the car in his Roman address under the number plate 153150 Roma then send the car to an specialist to convert it into a winner car. Special air cleaners were installed, brake drums were drilled for a better ventilation, etc…
Carlos Panini was a wealthy Mexican businessman of Italian origin, from Mosio di Acquanegra sul Chiese in the province of Mantova in Lombardia region. He is credited with being the first pilot to fly a light plane around the world. In 1927 he had established Mexico's first scheduled airline, which he had sold shortly prior to the race as he was planning to retire.
He was a motorsport enthusiast and participated in numerous competitions.
Panini died when his car crashed during the 1951 Carrera Panamerica on the second stage from Oaxaca to Puebla. Although the registered driver for the race was Carlo's daughter Teresa (Teresita), he was at the wheel of car, despite the fact that he did not have a valid license and was in ill health. The accident happened when 15 year old Bobby Unser was trying to overtake Panini who was travelling at a lower speed and blocked the American for a long stretch. After several attempts, Unser made his move but Panini tried too late to block him, resulting in the two cars bumping one another. Unser nearly went off a sheer cliff but was skilled enough to control his Jaguar, while Panini's Alfa Romeo went straight into a wall, killing the driver instantly. Unser did not stop for fear of being disqualified from the race as the rules explicitly forbade it. Later, Ricardo Ramirez of Mexico City abandoned the race to rush the Paninis to a hospital in Puebla. Teresa Panini survived the accident with minor injuries.
Press reaction to his death was strong in condemning the race as his was a part of a series of prominent deaths that year. At the time of his death newspapers gave his age as 54, but one states his age as 48.
At the bottom of this web, you will be able to watch the videoclip from 1951 where you can see Sig Panini giving a passionated hug to his daughter Teresita, only a few minutes before losing his life. Unfortunately, death didn't give him any warning to avoid that fatal accident which would barry Teresita's heart for the rest of her life.
The pictures of Teresa Panini at the wheel conquered the spectators and participant's hearts of the 1951 II Carrera Panamericana. Still today those pictures can be seen on every book or internet article related to it.
The  year 1951, the race was run from south to north, starting in Tuxtla Gutierez,  Chiapas and finishing in Ciudad Juarez, Chihuahua because of the lack of accommodation available for race officials, drivers, crews and press in El Ocotal and the jungle. This northerly direction also allowed the U.S. drivers to finish at their border. For the first time, a European manufacturer entered a 'factory' team, Ferrari entering several cars including a 212 EXPORT , LWB Vignale, and although these did not technically satisfy the requirements of the touring car category, the Italians were permitted to compete anyway.
The race would prove to exact a heavy toll upon drivers. At the start of the race, José Estrada, a prosperous Mexico City car dealer and a veteran racer, announced: "I will win, or die trying." On the first stage, his 1951 Packard skidded off the road and tumbled 630 feet (190 m) down into a ravine. Both Estrada and co-driver Miguel González died in Oaxaca hospital later that afternoon. The next day claimed Carlos Pannini
After the terrible crash, Mr. Boby Unser's would say these words to the press:
"On the second day, we were in seventeenth and coming up to pass the car of millionaire Carlos Panini and his daughter, Terresita. She was the registered driver. However, Carlos was behind the wheel instead and was in ill-health. He shouldn't have been driving. He didn't even have a driver's license. The rules were that the slower car was to allow the faster car to pass if the faster car honked its horn. We were in the mountains, and I came up to Carlos and honked, but he wouldn't let me pass. This went on through about ten turns, with Carlos blocking me each time. We were probably doing about 90 miles per hour at this point. The next time I tried to pass him, he bumped my right-front fender, which almost pushed me off a sheer cliff to the left that was some 500 to 800 feet down. My left front tire went over the edge, but fortunately I regained control of the car. Carlos over-corrected his car to the right, and went straight into a solid rock wall. The car exploded on impact like an egg hitting a sidewalk. I didn't know it at the time, but Carlos was killed instantly.
One of the rules of the race was if you stopped to help anyone, you were automatically disqualified… Seeing the explosive impact, I wanted to stop to help, but daddy told me to keep going. He knew the rules and told me that people were there to help. That was hard for me – I slowed down to about 15 or 20 miles per hour. He insisted that I keep going, and grimly, I did."
Unser managed to control his Jaguar, while Panini's 1949 Alfa Romeo 6C 2500 SS collided with the cliff face. Ricardo Ramírez of Mexico City abandoned the race to rush the Paninis to a hospital in Puebla, but he was announced dead on arrival. Teresa Panini survived the accident with minor injuries. The deaths of two well-known Mexican sportsmen in the first two days of the race brought some reactions of horror and indignation. A government official publicly branded the race "an imitation of North American customs not suited to Mexican characteristics." The press went off on a crusade; Mexico City's  El Universal declared that permitting such dangerous shenanigans was a "crime."
Although the first two places were predictably won by the works Ferraris (driven by Piero Taruffi and Alberto Ascari respectively), third and fourth places were won by ordinary American cars. Bill Stirling, a salesman from El Paso, Texas, won third place in a   Chrysler Saratogaand well-known race car driver Troy Ruttmanwon fourth in a flat-head Mercury which he reportedly had bought for $1,000 in a used car lot inEl Monte, California. In spite of this he was able to defeat several of the factory Lancias and Ferraris.
After the fatal accident, on November 21st, 1951 the car was sold by the Panini family to Sr. Jaime de Letona. Then on 1st July, 1955 to Mr. Jorge Enrique Torrecilla. On February 3rd, 1956 it got sold again to Sr. Alfonso Diaz Infante. On January 1st, 1958 the car got sold to Mr. William C. Marton Jr, who then sold it to Mr. Lee Render of Mexico DF and who owned it until 2011, when the car was discovered in Mexico by Mr. Cruz. Mr. Cruz helped to sell it and export it in 2011 to an UK Alfa Romeo dealer, who imported the car in London (UK). In 2014 Mr Paco Ramos of The Classic Road bought this car from him through Mr. Bruce Trenery of Fantasy Junction (California) and started a nut and bolt restoration near the place of its birth (Italy).
This delightful coupe must be one of the handsomest post-war Alfa Romeos with the greatest Alfa Romeo 6C SS race history.
What makes this car even more rare and desirable is the fact that this is one of only 19 so called "Airlux" cars ever built by Touring.
As proof of originality, the car is accompanied by absolutely all original papers, including the original italian title from 1949 "libretto", the original ignition key, the original french and mexican driving license of  Teresa Panini, the original bill of sale, the original rally driver of Mrs Teresa Panini issued by the "Federation francaise des sports automobile" of Paris, the original driving license of Carlo Panini, hundred of original pics from Mr Carlo and  Teresa Panini taking place at the race, pics from Mr. Panini and his aviation company, proofs of export from Mexico to Europe, etc…
The last unit sold at an auction (a "common" street car version) got hammered at $ 814.000.
See http://www.goodingco.com/vehicle/1950-alfa-romeo-6c-2500-ss/
These are interesting links about the tragedy, history and the personalities:
http://en.wikipedia.org/wiki/Carlos_Panini
http://www.enciclopediagro.org/index.php/indices/indice-de-biografias/1222-panini-carlos
http://studio16mmjackinthebooks.blogspot.com/2012/08/carrera-panamericana-1951.html
http://www.noticiasnet.mx/portal/deportes/automovilismo/176232-la-curva-de-"el-che"-estrada
http://www.historicracing.com/driver_az.cfm?type=drivers_alpha&tStartRow=1&AlphaIndex=P&driverID=2588
http://procompeticion.blogspot.com/2011/12/la-carrera-panamericana-una-carrera.html
http://www.alfistas.es/foro-alfistas/clasicos/historicos-alfa-romeo-ix-los-6c-2500-(1939-1953)/220/?wap2
http://lacarrera2007.blogspot.com/2008/04/bobby-unser-speaks-about-muerte-dead.html
http://www.carmodel.com/gamma-models/ke012/1-43/alfa-romeo/2500ss-n-19-ii-carrera-panamericana-mexico-1951-t-panini-c-panini/63626
We recommend the following videos:
Contact us regarding this listing
Back to Top