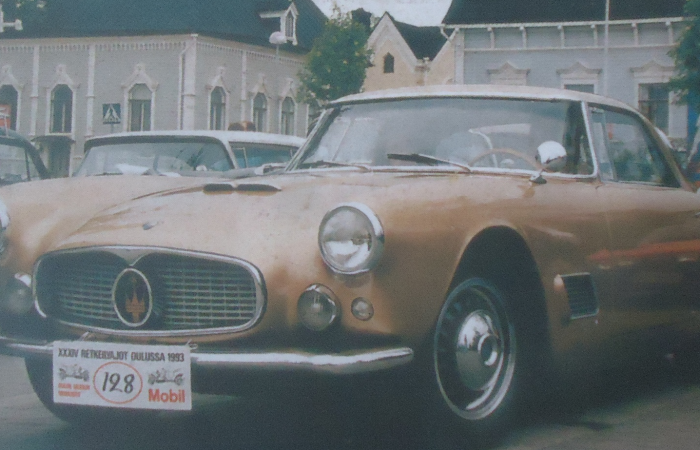 Details
SOLD

Body Type: Coupe
Dealer Location: Madrid
Year Built: 1959
Engine Size: 3.5L
Trans: Manual
Fuel Type: Gas
Ext color: Gold
Int color: Ivory
Introduced in 1957, Maserati`s 3500 series is generally regarded to be their first whole-hearted effort at a regular production model. It provided a great deal of financial stability in the form of regularization of income to offset the expense of motor racing, which was very welcome during this, Maserati`s heyday of competition in the World Championship. The car itself was available as both a coupe built by one the greatest and finest Italian coach builder of all times, Touring,  or a beautiful Spyder with Vignale bodywork. The coupe alloy bodywork of the Touring featured their characteristic interesting details including a number of tasteful vents and scoops to augment the already well-proportioned and elegant lines. The bodywork was built with the allow superleggera technology, and just 1970 units were built over a five year period. Both open and closed cars were motivated by a torquey 3.5 litre twin cam inline six, fed initially by triple Weber carburetors, and later by Lucas fuel-injection, which sometimes proved difficult to tune. They provided very good road holding, which in conjunction with the small back seats and generous trunk, made the car an enjoyable and usable touring car.
This particular example is a Coupe from 1959. The first series are considered more rare and collectible and the fact of being carbureted makes this first series more attractive and reliable, as  the  fuel injected units were hard to tune and most of them had to be reconverted to carburetor version. The series I were famous for their more stylish and beautiful tail lights, compared to the less desirable look of the ones mounted on the series II. The fact of having the simpler and more reliable Weber carburetors, bring also their famous induction noise to an already sweet soundtrack. In more recent years, a comprehensive restoration of the engine to high standards has been carried out. It was completed some years ago and the engine remains fresh not having been installed since then. The car is complete, except for the exhaust, one side sill trim and the jack.
As far as we have been able to find out, it is the only series I alive, originally painted in gold color, with an impressive ivory color interior combination.
We can assure that once this project will be finished, the driving experience of this exiting and almost unique 3500 will  also reflects the quality of its sport mechanics with an astonishing elegant Touring design.
This particular unit was finished in 1959 and shipped to Canada to its first owner, a gentleman called Mr Douchane Sebastian Roche in Vancouver (Canada) who registered it in 1960 and kept it until he decided to sell it to the famous Maserati journalist Rob de la Rive Box, probably the most prestigious Maserati/Ferrari journalist, collector, dealer and book author of all times. Mr. De la Rive Box sold the car anytime back in the 70′s, as stated in his book "Darf es ein Ferrari sein?".
In 1988 Mr. Kenneth William Wolff from Goleta, California, USA sold the Maserati to Jouko Saarinen's company Automobiili Oy, in Turku, Finland. The Maserati was imported to Finland on 14.04.1988. The car was then registered with license number MR-168 on 04.10.1988.
Mr. Jouko Saarinen sold the Maserati to Mr. John Molin's company Ab M-Rent Oy in Jakobstad (Pietarsaari), Finland.  Contract was signed 21.3.1989.
Mr. John Molin sold the Maserati as an unfinished project to its last owners registered at  Vaasa, Finland on 15.07.1998.
On 31.01.0999 the Maserati was removed from traffic register for restoring.
Mr. Männistö owned it and accomplished some restoration jobs until 2013, when it was bought and exported from Finland to Spain by The Classic Road, S.L.
It's matching numbers, originally stamped by the factory, with chassis number  101.616, engine number  101.616 and internal engine number 274.
Horsepower: 220 bhp DIN, SAE @5500 rpm
Displacement: 3.485 liter
Torque: 343 Nm @ 3500 rpm
Transmission: 4-Speed gearbox
Suspension:
Front- Double wishbones, coil springs, telescopic shock absorbers, anti roll bar.
Rear- live axle with semi-elliptic leaf springs, anti roll bar.
Top Speed: 220 km/h
This is an outstanding opportunity to acquire one of these rare and beautiful legend cars of the 50′s at a very realistic price. Historically undervalued, these cars have appreciated significantly in recent years because of their intrinsic beauty and technological features. Yet, when compared to other contemporary Italian cars, they are a relative bargain, with whatever Ferrari 250 long wheelbase at over a million dollars now! This car with its original mechanics is considerably more modern feeling than many contemporary cars, but it also has the more visceral Webers which easier to keep in tune than the subsequent Lucas injection system. As a result, this car would be ideal for the wide variety of events and rallies that are becoming increasingly popular, yet would cost only a fraction of the price of similar coupe Italian thoroughbreds. With a sparkling and comprehensive restoration, this car is sure to be a hit among both participants and spectators.
The car is a clear matching numbers unit, it comes with an EU street legal title and its history is very well known. It's a special opportunity to acquire a very interesting and unmolested projet. Yes, an ambitious project for a wise investor.
We recommend the following videoclips:
Contact us regarding this listing
Back to Top