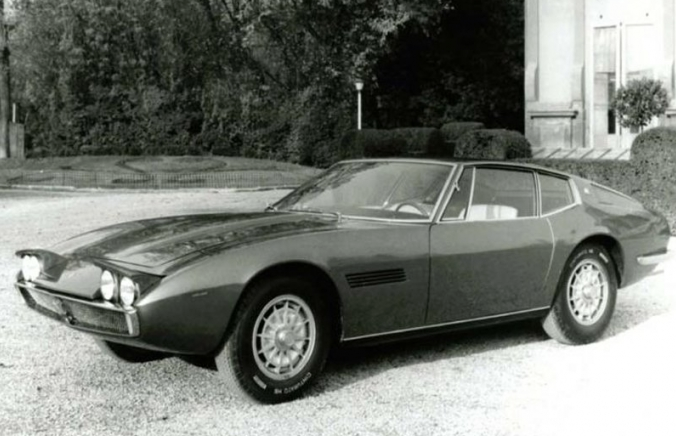 Details
SOLD

Dealer Location: Madrid
Trans: Choose an item
Fuel Type: Gas
Penned by the famous and very talented Giorgetto Giugiaro, the Ghibli was one of his earliest designs. Featuring Maserati's wonderful quad-cam alloy V8, the car had excellent performance, but was also well-appointed and comfortable. While in production, it was Maserati's flagship, and represented the last of the traditional front-engined cars before the mid-engined fad began. With just over 1,100 coupes constructed, they are rarer, and arguably better value, than Ferrari's Daytona which are several multiples their value.
The Ghibli's V8 employed dry-sump lubrication. As opposed to the traditional wet sump that stores oil in a pan beneath the engine, dry-sump systems use a separate reservoir to hold oil, from where it is pumped into the engine for lubrication and then recirculated back into the reservoir. This design, popular on racing cars of the era and even today used almost exclusively in high-performance applications, gave many advantages. First, and perhaps most important to the Ghibli's menacing shape, was its allowance for an engine with as little vertical height as possible. With no need for an oil sump beneath the engine, the Ghibli's motor could be lowered in the car's frame to allow for a low center of gravity and, of course, the car's mean, low hoodline. Dry-sump lubrication also prevented oil starvation and provided better oil cooling, making the Ghibli's engine comfortable on any track.
Performance figures were staggering. From a standstill, the Ghibli could achieve 60mph in a scant 6.4 seconds. The quarter mile passed in 14.5 seconds. When the Ghibli was introduced in 1966 with a 4.7L V8 producing 340hp, this Maserati became capable of reaching incredible speeds. The Ghibli could reportedly exceed 280 kilometers per hour. Converted to a measurement we can fathom, that meant over 170mph. That type of speed was unreal in 1970, and it turned the Ghibli, which was named after a rapid wind, into a legend more than capable of living up to its label.
The Ghibli's imposing posture was the work of one of Italy's most prolific car designers, Giorgetto Giugiaro. The Ghia badge adorning the Ghibli's body designated the design house for which Giugiaro was then working, Carrozzeria Ghia. Giugiaro had a hand in styling some of history's best remembered cars, and the Ghibli's shape continues to impress today.
Pop-up lights and the dry-sump allowed for a low hood and an imposing frontal aspect featuring a wide grille of black mesh with the trident standing proudly at its center. The windshield's aggressive rake continued the theme, and it swept up to a low roof (the Ghibli stood just 45 inches tall). That roof was tilted towards the rear of the car, and it met the backlight seamlessly where it continued its downward slope to endow the car with a clean fastback shape. The rear was finished with a tight Kamm tail.
Not to leave anyone fooled by the sweeping lines and motorsport-inspired powertrain and drivetrain, the Ghibli's sumptuous interior reminded that this really was a GT car. With a generous trunk and comfortable seats, the Ghibli was set to erase miles quickly on the open road.
Throughout its production run from 1967 to 1973, the Ghibli proved itself worthy of the trident badge. It was a well-engineered machine clothed in fine Italian style, and it is remembered today as one of the finest road-going Maseratis ever produced. A success for its parent company, 1,149 Ghibli coupes were produced along with the Spyders and around SS but only approximately 850 of Ghibli 4.7 coupes were produced which makes of this unit one of the most desirable ones. Additionally to the rarity of this cars, this concrete unit is one of the rarest versions wearing its original automatic gearbox (rumores say that only 50 units were ever built with the strong Borg-Warner gearbox).  The relatively high production numbers once made Ghiblis easy to pick up for reasonable prices. Collectors are catching on, though, and values are on the rise. These stunning Maseratis are sure to be remembered as one of the company's greatest achievements.
It's is in need of restoration but all assembled, with no signs of rust, fully matching numbers and complete. A list of recent jobs done is available, including a complete stainless steel exhaust. The chassis is excellent, with its complete original interior, AC and aluminum campagnolo wheels. All appear to be original and reasonable well maintained after having driven only 47.702 miles since new.
This is an excellent opportunity to acquire an interesting, rare, and attractive classic Italian sports car. This particular car spent its life in California. Classic Maseratis from the 50′s and 60′s are highly appreciated, mainly the low production units. The Ghibli coupe is a fine way to experience a world-class classic Italian sports car with a racing-derived motor, coachbuilt Italian bodywork (often considered Ghia's best work), and genuine rarity with a "handful" of units produced. Although less appreciated than the Ghibli spyder, they continue to be undervalued, particularly compared to contemporary Ferraris, examples of which are now trading for well over $ 2 Mil.
This particular beauty, wearing a very elegant original color combination is considered to become a classic car icon which we're sure it'll brake sale records in every auction. A similar car, fully rebuilt, got sold at Pebble Beach Bomhans auction last August 15th, 2014  for USD 385.000. See linkhttp://www.bonhams.com/auctions/21917/lot/264/
We recommend the following videoclips:
Contact us regarding this listing
Back to Top