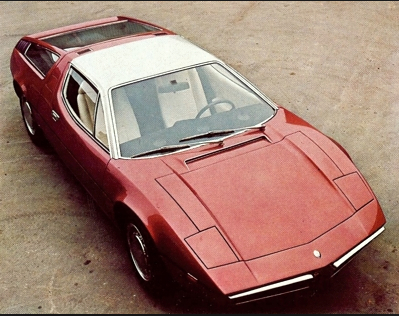 Details
JUST SOLD

Body Type: Coupe
Dealer Location: Madrid
Trans: Choose an item
Fuel Type: Gas
Ext color: Red
Int color: White
Shortly after Citroën took a controlling interest in Maserati in 1968, the concept of a mid-engined two-seat sports car was proposed. Lamborghini and De Tomaso already had the Miura and Mangusta whilst Ferrari were known to be developing their own mid-engined contender. Initially known as Tipo 117 and later the Bora, the Maserati project got underway in October 1968 and a prototype was on the road by mid-1969. Shown in its final form at the Geneva Salon in March 1971, deliveries began before the end of the year.
Maserati had developed a reputation for producing technologically out of date cars, but that changed with the Bora. A number of innovative features were introduced that distinguished the car from their previous offerings. Compared to other supercars it was civilized and practical, featuring a hydraulically powered pedal cluster that could be moved forward and backwards at the touch of a button and a steering wheel that could be tilted and telescoped, addressing the common problem of entering and exiting the vehicle common to all supercars.
Most supercars offer little foot room and little to no provision for luggage, but the Bora has a full-size trunk in the front of the vehicle, and was otherwise known as being much more civilized in comforts from its competitors, while still being rated at 171 mph by the Maserati factory. Unlike its competitors, the Bora used dual-pane glass separating its cabin from the engine compartment as well as a carpeted aluminum engine cap, greatly decreasing the engine noise in the cabin and increasing the comfort level for the driver.
Two engines were offered initially, including a high-revving 4.7-litre (290 cu in) V8 and a higher torque 4.9-litre (300 cu in) V8; a US smog-qualified 4.9-litre engine was used (a stroked version of the 4.7), starting with 1973 deliveries. The car we are offering is one of the very rear 4.9 liters. Only over a couple of hundred units of these 4.9 version were built for the entire world, what makes this car a rarity and a clear candidate to become a top investment.
Eventually, production switched to using only a more powerful version of the 4.9-litre engine producing 320 hp at 6000 rpm. All these engines had lineage back to the fantastic 450S racecar, were aluminum alloy, had hemispheric combustion chambers with 16 valves total operated by four cams (chain-driven) and fed by eight throats of Weber carburetion, fired by electronic ignition. The extraordinarily competent and strong ZF-1 5-speed trans-axel was used–as it was with the GT-40, Pantera, BMW M1, and other Supercars in this era. Regardless of engine size or modification level, the Bora was considered an extraordinarily powerful car in its time.
A combined steel monocoque chassis and body featured a tubular steel subframe at the back for the engine and transmission. Suspension was independent all round (a first for a Maserati road car) with coil springs, telescopic shocks and anti-roll bars. The development prototype and the broadly similar show car first seen at the 1971 Geneva Motor Show featured MacPherson strut based front suspension, but this was abandoned for production because, installed in combination with very wide front tires and rack-and-pinion steering, the strut-based solution produced severe kickback. For the production cars Maserati reverted to a more conservative wishbone front-suspension arrangement.
Citroën's advanced high-pressure LHM hydraulics were adopted to operate the ventilated disc brakes on the main circuit, and on an auxiliary circuit the pedal box [clutch, brake, foot-throttle], the driver's seat [vertical adjustments], and the retractable headlights. Wheels were 7.5 x 15 inch Campagnolo light alloy rims with distinctive removable polished stainless steel hubcaps in the earlier automobiles, and tyres were Michelin XWX 225×70.
Maserati decided to install a subtly uprated version of their familiar DOHC 90° V8, displacement having been 4719 cc thanks to a bore and stroke of 93.9 x 85 mm. Mounted longitudinally, compression was set at 8.5:1 and with four Weber 42 DCNF downdraught carbs and electronic Bosch ignition, the Bora could boast 310 bhp (230 kW) at 6000 rpm. Great attention was paid to reducing noise and vibration, the engine and five-speed ZF transaxle being mounted on a subframe attached to the monocoque via four flexible mounts. The body was created by Giorgetto Giugiaro for Ital Design, fabrication of the all-steel panels being contracted to Officine Padane of Modena.
Standing 1138 mm high, perhaps the most distinctive details were the brushed stainless steel roof and windscreen pillars. Inside, the bucket seats, dash, door trim, centre console and rear bulkhead were trimmed in leather, electric windows having been standard, most cars like this one also getting air conditioners. The steering column was manually adjustable for rake and reach, whereas the LHM aux' circuit controls adjusted the driver's seat vertically, the pedal box [consisting of the brake, clutch and throttle pedals] horizontally forwards and backwards by around three inches (76 mm)–a first such application in the world for a production car–and also to raise and lower the concealed headlights in front fenders.
Weighing in at 1520 kg (around 180 kg heavier than the Ghibli), top speed was 165 mph (266 km/h) whilst 0–60 and 0–100 took 6.5 and 14.6 seconds respectively. The first Boras were delivered to customers in late 1971, and only minor production changes were gradually phased in thereafter. About early 1974, front lids became hinged at front instead of rear, pop-up headlights showed rounded inside corners, and a rectangular black air-exit grille was added across the hood (similar to Pantera). From 1973, as the 4.7-litre engine had not been homologated in North America, US Bora models had air-pump emissions-equipped 4930cc Super-Ghibli engines similar to those found in US-bound Ghiblis. Output was 310 bhp (231 kW) at 6000 rpm.
US-spec 1974 Maserati Bora
US Safety-compliant front bumpers had to be added to meet US DOT safety legislation, on US-delivered cars–though many US Bora owners have subsequently retro-fitted the original Euro' versions. Three years later, the 4.9-litre engine became standard on all Boras, displacement having been stroked from 85 to 89 mm, this resulting in a 4930 cc. With compression set at 8.75:1, output was 10 bhp (7.5 kW) up on the 4.7 with 320 (330 in Europe) bhp at 5500 rpm. Production ran from 1971 to 1978, 524 Boras eventually being built, 289 of which were 4.7s and the remaining 235, 4.9s. How many of each were LHD and how many were RHD is unstated on the Maserati home website–and other obvious parameters are mis-stated there. As time has passed, many US states including California, where this car comes from, have allowed smog exceptions for older cars, and it is not uncommon for US 4.9 Bora owners to have 'adjusted' matters for optimum supercar-spirited performance.
Thepenier, the noted French Maserati dealer, had even created two Group4 racing Boras that were very competitive.
The car spent most of his life in California, USA where it had its last owner for almost 30 years and remains in fully original conditions. It is one of the very low production units delivered in red/white color which makes of this car one of the most beautiful color combination ones. It is an absolutely matching numbers unit and is waiting for a new owner to enjoy it.
We recommend the following videoclips:
Contact us regarding this listing
Back to Top