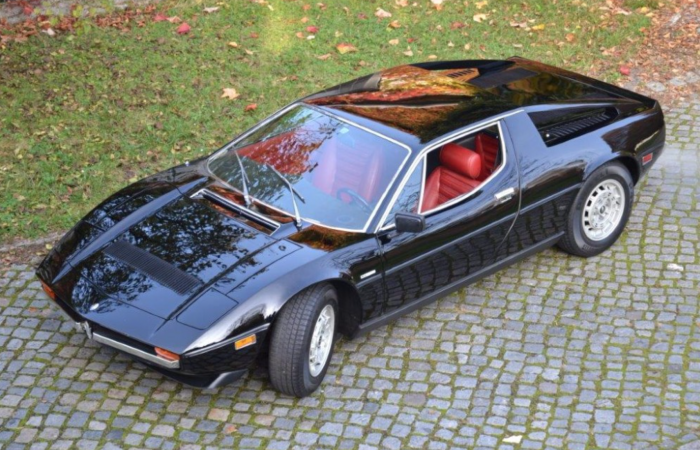 Details
JUST SOLD

Trans: Choose an item
Fuel Type: Gas
The Maserati Merak was introduced at the 1972 Paris Auto Show, over a year after the Bora. The Merak and the Bora share the front part of bodyshell up to the doors. The front ends are differenced mainly by the use of dual chrome bumpers in place of twin trapezoidal grilles, but the similarities end at the B-pillar. Giorgetto Giugiaro at Italdesign was commissioned the transformation of his last work the Bora into the Merak. Unlike its bigger sister the Merak doesn't have a true, fully glassed fastback, but rather a cabin ending abruptly with a vertical rear window and a flat, horizontal engine bonnet pierced by four series of ventilation slats. Giugiaro completed the vehicle's silhouette by adding open flying buttresses, visually extending the roofline to the tail. The main competitors of the Merak were the similarly Italian, mid-engined, 3-litre and 2+2 Dino 308 GT4 and Lamborghini Urraco P250. However unlike its transverse V8-engined rivals the Merak used a more compact V6, that could therefore be mounted longitudinally.
Having been designed during the Citroën ownership of Maserati (1968–1975) certain Citroën hydropneumatic systems were used in the Merak, as for the Bora. In specific the braking system and the clutch were both hydraulically assisted and operated, and the pop-up headlights hydraulically actuated. After 1976, when the French manufacturer gave up control of Maserati, the Citroën-derived parts were gradually replaced by more conventional systems. In 1977 Alejandro de Tomaso purchased Maserati and the Bora was discontinued after a production run of less than 600 cars, while the Merak remained on sale for six more years.
The lightened and more powerful Merak SS (Tipo AM122/A) was introduced at the 41st Geneva Motor Show in March 1975, although it did not enter production until the next year. It featured a 50 kg weight reduction and a 30 PS power increase to 220 PS (162 kW; 217 hp), thanks to the adoption of three larger 44 DCNF 44 carburettors and a higher 9:1 compression ratio. The SS was recognizable from a black grille between the pop-up headlights. A Maserati-designed upper fascia with round instruments and a four-spoke steering wheel replaced the previous SM-derived interior furniture. Later cars were bestowed with the full driver-oriented dashboard and three-spoke padded steering wheel of the Maserati Bora. The US-spec version of the Merak SS also saw a return to traditional hydraulics, eliminating the last of the Citroen high pressure system. 1000 units of the SS had been made by 1983, when all Merak production ceased.
Contact us regarding this listing
Back to Top