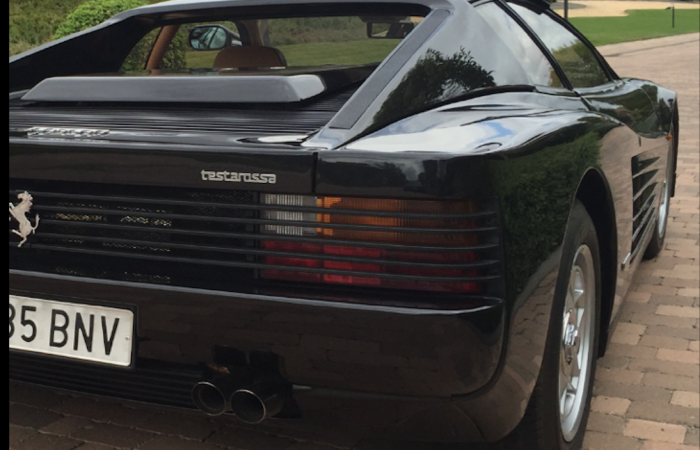 Details
SOLD

Dealer Location: Madrid
Trans: Choose an item
Fuel Type: Gas
Ext color: Black
Int color: Beige
Upon its introduction in late 1984, the Testarossa stunned the world with its avant garde styling. Long low and wide, the Testarossa appeared even more so thanks to the extensive use of horizontal slatting, a feature that would be replicated both on other Ferraris and on many other lesser cars. Yet beneath these striking features was a surprisingly organic and handsome form that remains as arresting today as it was twenty years ago. Motivated by a new four valve version of Ferrari`s horizontally opposed twelve cylinder engine that made 390hp, the car was quick and made fantastic noises, but was also very plush with leather almost everywhere, including on the rear shelf, headliner, and visors. The trunk is reasonably sized and the car very comfortable and easy to drive, making it an ideal way to cover long distances at high speeds in comfort. Many Testarossa owners use them regularly.
This particular car is one of the very desirable units of the so called "monospecchio" or "flying mirror" born in black color with beige interior. Probably the most beautiful color combination for a supercar. We are talking about a very limited production of less than 300 units for the EU market. It was delivered new to its first owner in the Netherlands back in April 1985 where it spent almost 15 years wearing the number plate LZ-78-BY. By March 1999 the car was sold by Loosdrecht Automobielen to its new owner in Spain, wearing its first spanish number plate A-0390-DW. Then the car got painted in red color and it got a new number plate 3845BNV. At this time, this great icon of all times underwent a deep restoration, including interior, engine, brakes, suspensions, new original Ferrari black paint, wheels, clutch, etc…
The interior is also in extremely nice condition. The seats show light wear only, even on the driver`s seat bolster, an area that is typically worn in Ferraris. The remainder of the leather, which covers almost every surface, including the sills, door panels, dashboard, rear parcel shelf, and headliner, is excellent. The dashboard is done in a rich dark black leather that sets off the tan nicely and is almost completely free from the shrinkage and discoloration that frequently affects these cars. The carpets are new.
The engine compartment and trunk are better than new.
This is a great opportunity to acquire one of these very neat and important cars. Their astonishing styling still carries tremendous impact, and they are modern in terms of driving, classic in terms of design, practical, and easy enough to drive to use on a regular basis. This car has been enthusiastically owned and well-maintained, both mechanically and cosmetically, and is in excellent condition for any car, just restored, irrespective of mileage. It has been in Europe for all of its life and represents a great way to enjoy the Ferrari experience as often as possible for the new owner. Moreover, with values of these cars coming up.
We recommend the following clips:
http://www.youtube.com/watch?v=kEOpMkEUqUA
Contact us regarding this listing
Back to Top