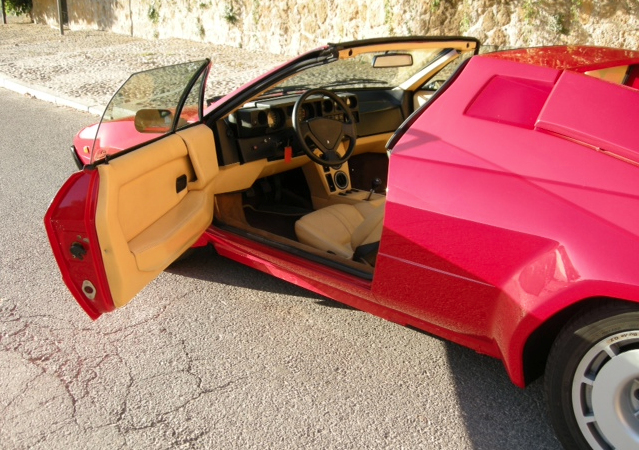 Details
SOLD

Body Type: Convertible
Dealer Location: Madrid
Engine Size: 3.5L
Trans: Manual
Fuel Type: Gas
Ext color: red
Int color: beige
Famous for their audacious, innovative, and impossible to ignore designs, Lamborghini remains the manufacture of choice for car enthusiast looking to make a motoring statement. Part of a long string of ground breaking super cars, the Jalpa was a development of the earlier Silhouette intended to fill a role as a more "affordable" Lamborghini, being much less expensive than the flagship Countach and being also designed by Bertone. Compared to the Countach, the Jalpa was much easier to drive, having better visibility and being more tractable in heavy traffic and at slow speeds. The name Jalpa came from a famous breed of fighting bulls, a tradition later followed with the Gallardo. The Jalpa was fitted with a 3.5 litre double overhead camshaft version of the V8 engine used in the Silhouette on which it was based. The version used in the Jalpa produced 255 hp at 7000 rpm. At the time of production, the Jalpa was Lamborghini's most successful V8 car to date, having sold 410 units.
This particular car is an extremely original,  low mileage example, showing just 30.900 KMS from new. It was sold new to a very well known aristocrat Sheikh Abdullah Khalifa, prime minister of Qatar between 1996 and 2007, where it remained with the original owner until it was exported to the UK back in 1996 when it was purchased by Mr. Vickers who took it to Spain. When Mr. Vickers moved back to the UK, he then sold it back in 2009 a friend, Mr. Marshallsay who owned it until it was purchased by The Classic Road. Save for a new paint, as a previous owner repainted it black, the car retains now its original color paint red. The interior is in wonderful condition, and is original throughout.
The driving experience confirms the mileage indicated as correct from new. The suspension bushings, shocks, steering system, and other controls all have the feel of a well cared for, exceedingly low mileage example. The engine starts easily, and provides ample power with a pleasing V8 exhaust note.
Included with the car is a cover, all service, maintenance, owner's handbook, and a second set of keys.
We recommend the following videoclips:
Contact us regarding this listing
Back to Top