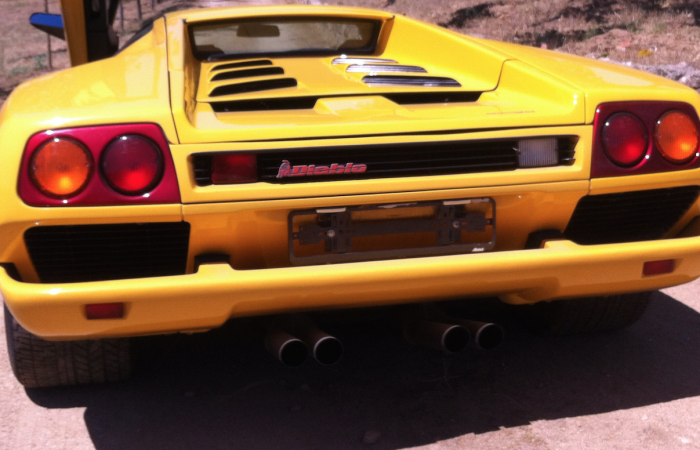 Details
The Classic Road Collection Car

Body Type: Coupe
Dealer Location: Madrid
Full Service History
Trans: Manual
Fuel Type: Gas
The Lamborghini Diablo was a high-performance mid-engined sports car that was built by Italian automaker Lamborghini between 1990 and 2001. It was the first Lamborghini capable of attaining a top speed in excess of 200 miles per hour (320 km/h). After the end of its production run in 2001, the Diablo was replaced by the Lamborghini Murciélago. Diablo is "devil" in Spanish, which is diavolo in Italian.
At a time when the company was financed by the Swiss-based Mimran brothers, Lamborghini began development of what was codenamed Project 132 in June 1985 as a replacement for the Countach model. The brief stated that its top speed had to be at least 315 km/h (196 mph).
The design of the car was contracted to Marcello Gandini, who had designed its two predecessors. When Chrysler bought the company in 1987, providing money to complete its development, its management was uncomfortable with Gandini's designs and commissioned its design team in Detroit to execute a third extensive redesign, smoothing out the trademark sharp edges and corners of Gandini's original design, and leaving him famously unimpressed. In fact, Gandini was so disappointed with the "softened" shape that he would later realize his original design in the Cizeta-Moroder V16T.
The car became known as the Diablo, carrying on Lamborghini's tradition of naming its cars after breeds of fighting bull. The Diablo was named after a ferocious bull raised by the Duke of Veragua in the 19th century, famous for fighting an epic battle with 'El Chicorro' in Madrid on July 11, 1869. In the words of Top Gear presenter Jeremy Clarkson, the Diablo was designed "solely to be the biggest head-turner in the world."
The development is believed to have cost a total of 6 billion Italian lira.
The Diablo was presented to the public for sale on January 21, 1990. Its power came from a 5.7 L (348 cu in), 48-valve version of the existing Lamborghini V12 featuring dual overhead cams and computer-controlled multi-point fuel injection, producing a maximum output of 499 PS (367 kW; 492 hp) and 580 N·m (428 lb·ft) of torque. The vehicle could reach 100 km/h (62 mph) in about 4.5 seconds, with a top speed of 202 mph (325 km/h). The Diablo was rear-wheel drive and the engine was mid-mounted to aid its weight balance.
The Diablo came better equipped than the Countach had; standard features included fully adjustable seats and steering wheel, electric windows, an Alpine stereo system, and power steering from 1993 onwards. Anti-lock brakes were not initially available, although they would eventually be used.
This particular car is one of the very rear yellow/black cars ever produced and comes with all the service and owner's manuals and all original tool kits, jack, etc…, History clear since day one until today.
We recommend the following videoclips:
Contact us regarding this listing
Back to Top