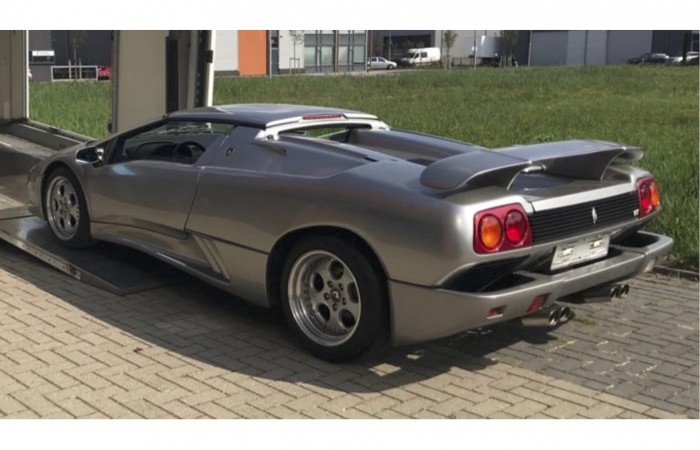 Details
SOLD

Body Type: Convertible
Dealer Location: Madrid
Full Service History
Trans: Manual
Fuel Type: Gas
1997 Lamborghini Diablo VT Roadster
Chassis no. ZA9RE37AOV LA12762
Engine no. to be advised

•Delivered new in Italy
•One of an estimated 330 Roasters built
•Comprehensive service history
•Circa 31,000 kilometres from new
•Registered in Dubai

After 17 years in production, the legendary Countach was replaced by the Diablo, which on its arrival was the fastest, most advanced and most expensive Lamborghini ever built. First exhibited publicly at Monaco in January 1990, the Diablo improved on its illustrious predecessor in every way, setting a new benchmark in supercar design. Nobody can have been surprised to learn that it had been styled by Marcello Gandini, the man responsible for the Lamborghini Miura and Countach, for the family resemblance was obvious. 

Stretched to 5.7 litres for the Diablo, Lamborghini's 48-valve V12 engine gained fuel injection for the first time, producing a maximum of 492bhp. With more power and a lower drag coefficient than the Countach, the Diablo easily eclipsed its forebear, exceeding 200mph (322km/h) on test. More importantly, its acceleration and top speed figures were marginally better than those of the Ferrari F40. Four-wheel drive Diablo VT and Targa-style open roadster versions soon followed.

One of an estimated 330 Diablo Roadsters built, this car was delivered to its first owner in the Bergamo province of Northern Italy on 16th July 1997 via the then Lamborghini main dealer, Touring Auto of Padova. The first owner kept the Lamborghini until 2000, when it was purchased by its second owner, a resident of the principality of Monaco, with 12,000 kilometres showing on the odometer. The car remained with the second owner until 2007, by which time it had recorded some 30,900 kilometres and had always been serviced either by the Lamborghini factory or Touring Auto.

In 2007, the Diablo returned to Italy and was purchased by a specialist supercar dealership near Verona, who used it infrequently and carried out the required minor servicing themselves. In 2014, the car was sold to the current owner, who has used it only sparingly and had it maintained at Paolo Centazzo's specialist workshop in Rome. Expertly cared for, this very rare open supercar is described by the vendor as in generally excellent condition. With its elegant colour combination of Argento Metalizzato (silver metallic) with black interior, this car is a welcome change from the loud colours the Diablo is often associated with. Importantly, it ticks all the boxes as a collector's car, being from a limited series and one of the last Lamborghinis produced prior to the Audi take-over. The fact that it is also one of the last supercars to have a conventional manual gearbox only makes it even more desirable. Accompanying documentation consists of the original service booklet, various invoices, copies of the old Monaco registration documents, and Italian registration papers. 
We recommend the following videoclips:
Contact us regarding this listing
Back to Top