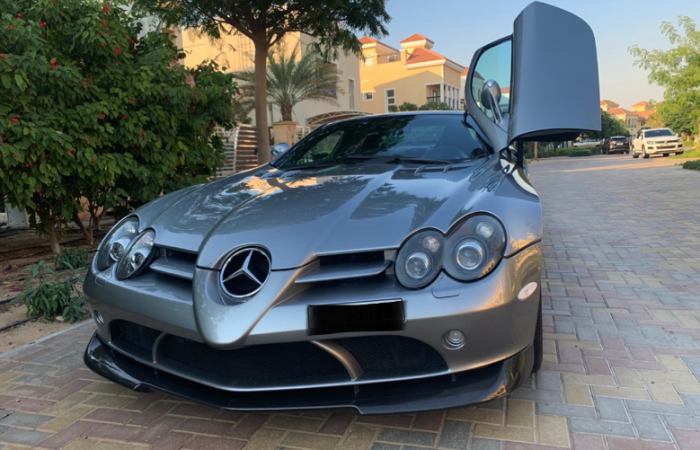 Details
The Classic Road Collection Car

Body Type: Coupe
Trans: Choose an item
Fuel Type: Gas
The Mercedes-Benz SLR McLaren was first revealed at the 1999 North American International Auto Show as the Vision SLR concept. Not necessarily intended for production, the design was inspired by the legendary 300 SL and SLR of the mid-50s, but with distinctly modern execution. Interest was high after the show, thus encouraging Mercedes-Benz to develop a production version. Teaming up with F1 partner McLaren, the production version of the car was presented in 2003, and would continue in limited production until 2010. When production ceased, a total of just 2,157 units were sold worldwide, which includes open and closed variants. Interestingly, this makes the SLR considerably rarer than the original 300SL, of which 3,258 examples were built but in 2007 the joint venture between Mercedes Benz and McLaren decided to launch the most desirable and very limited production version called 722 of which just 150 coupe cars were ever built for the entire world.
At its introduction, the SLR McLaren was a technological tour de force. It was outfitted with Sensotronic brakes, a brake-by-wire system utilizing carbon-ceramic disc brakes, and eight-piston front calipers with four-piston rear calipers. The brakes were impervious to fade up to 2,200 degrees F and deployed automatic disc wicking during wet road conditions. Active aerodynamics was also part of the unique body design including a flat underbody, rear-mounted air brake, and adjustable spoiler to improve downforce. The body was built using lightweight carbon fiber reinforced composite formed over an optimized center firewall design. The layout positioned the front engine toward the rear, essentially creating a front mid-engine car, which greatly improved handling characteristics. The 5.4 liters supercharged SLR engine generated 617hp and 575 ft-lbs of torque, delivered in the inimitably brutal supercharged fashion. This was backed by an AMG Speedshift five-speed automatic transmission with three manual modes. The performance results are astonishing even despite today's extraordinary performance machines, with various magazines recording 0-60 times in 3.3 seconds, 0-100 mph in 7.5 seconds, and a quarter-mile time of 11.5 seconds at 126 mph.
While many "special edition" cars offer little more than special badges and maybe a new color or two, the 722′s enhancements-some 300 changes in all-push the SLR into a performance realm so lofty, at times it can be hard to breathe.
The 722 has it, all right. As noted, the supercharged and intercooled, 5.4-liter V-8-each one handmade at the AMG works in Affalterbach, Germany, before being shipped off to the McLaren assembly facility in Woking, England-has been bumped to 641 horsepower at 6500 rpm and 605 pound-feet of torque (up from the regular SLR's 575) at 4000. As before, the engine mates to a five-speed automatic transmission, now with aluminum shift paddles (for manual-mode gear selection) instead of wheel-mounted buttons. The retuned chassis is stiffer and almost a half inch lower, the forged-aluminum wheels have grown to 19-inchers all around, the front brakes (Brembo carbon-ceramic discs) have swelled to 15.4 inches, and the bodywork features a new carbon-fiber front splitter that increases downforce on the front axle by 128 percent-without increasing drag. In addition, overall weight is down by nearly 100 pounds, thanks to lighter wheels, aluminum shock housings, and thinner carpeting. Inside, the cockpit sports new leather trim (including a spectacular Alcantara steering wheel), red stitching, and lavish expanses of carbon fiber.
Officially, the SLR 722 Edition is an homage to the Mercedes-Benz 300SLR that carried British Grand Prix driver Stirling Moss and journalist/navigator Denis Jenkinson to victory in the 1955 Mille Miglia road race. The number "722″ refers to their start time-7:22 a.m. (after departing Brescia, the pair completed a 1000-mile loop through Italy in a record-setting 10 hours, 7 minutes, and 48 seconds-an average speed of almost 98 mph)
This particular example is one of only 150 units made for the entire world. Ordered new by the most relevant family of Qatar. The car remained within the royal family until 2021 so we could say that this is a one-owner car. Currently showing 46000 original km, the car has been properly serviced and maintained as needed at the Mercedes Benz Dealers in Qatar, Switzerland, and Dubai who serviced it between 2007 and 2017. In 2017 the car started being serviced by the most exclusive workshop in Dubai reserved for Sheikhs and VIP's related to the government called Dubai Government Workshop.  Just 7000 km ago it underwent the most expensive service including a full check-up where brake discs were replaced, spark plugs, and lots of works which made an invoice of over 57'000.00 dollars. Then it was sold to us through the most prestigious exotic and supercar dealer of Dubai, who put the deal together.
The car was serviced as  follows:
- New sold new on 22/04/2007 by official Mercedes Benz AMG dealer of Qatar Nasser Bin Khaled and Sons
- 1st service was done at 757 km on 08/05/2008 by MB AMG Qatar Nasser Bin Khaled and sons
- 2nd service was done at 3145 km on 14/07/2009 by MB AMG Qatar Nasser Bin Khaled and sons
Exported to Dubai in 2010 by the same owner
- 3rd service was done at 6426 km on 27/05/2010 by MB AMG official dealer Gargash Enterprises LLC
- 4th service was done at 12463 km on 10/10/2011 by MB AMG official dealer Gargash Enterprises LLC
- 5th service was done at 17956 km on 23/10/2012 by MB AMG official dealer Gargash Enterprises LLC
- 6th service was done at 26653 km on 05/12/2013 by MB AMG official dealer Gargash Enterprises LLC
- 7th service was done at 33304 km on 05/02/2015 by MB AMG official dealer Gargash Enterprises LLC
- 8th service was done at 36192 km on 07/04/2016 by MB AMG official dealer Gargash Enterprises LLC
Exported to Switzerland  in 2015 by the same owner
- 9th service was done at 37405 km on 20/10/2016 by MB AMG official dealer Garage de la Marbrerie (Geneva-Switzerland)
Exported to Dubai in 2017 by the same owner
- 10th service was done at 38851 km on 02/07/2017 by Dubai Government Workshop
- 11th service was done at 41437 km on 02/09/2018 by Dubai Government Workshop
- 12th service was done at 43447 km on 10/12/2019 by Dubai Government Workshop
- 13th service was done at 44874 km on 14/02/2021 by Dubai Government Workshop
The car has been fully inspected by the most knowledgeable independent Mercedes Benz specialist and reveals an accurate record of miles, and was never crashed. This vehicle was serviced as needed. It comes with its two original keys, two original SLR pouches including the service book duly signed and stamped by Mercedes Benz dealers.
Today this exceptional car presents beautifully with its original deep, lustrous, metallic Crystal Animon Grey paint over stunning contrasting black Alcantara interior. All glass surfaces, clear front, and rear lenses, and exterior body trim are in excellent cosmetic condition. The paint is in excellent condition throughout with only minor scuffing at the lower edge of the air dam. All openings function as new, with excellent gaps and fit. The butterfly doors open with a beautifully unique upward swinging motion, a feature which, in addition to drawing attention wherever it goes, reduces the amount of space needed to fully open the doors, a helpful feature on such a wide car. The glass is excellent throughout. The wheels are in very good condition with brand new tires mounted in 2021 as well with one small area of curb rash on the wheels only.
Inside the car, the black Alcantara interior exhibits the exclusive 722 scripts on the headrests, a limited edition label showing the 722 version as well as the optional Nokia device, and many other options. All interior components have been beautifully maintained including smooth and supple Alcantara seats, sculpted dash, and console materials, all of which form a beautifully cohesive and special feeling cockpit. The seats are not only visually stunning, but they are also comfortable and supportive – the perfect balance for performance or highway driving.
Just opening the hood creates a sense of occasion. The massive carbon fiber clamshell unit articulates forward and then up, revealing an expansive engine room with a beautiful intake plenum behind which is the engine itself, which is well back in the car. All aspects of the underhood area present a very good condition, showing some minor signs of use or aging, as expected given this car's mileage. The engine comes with a limited edition 722 plate showing the engineer who supervised the assembly. 
The undercarriage of the car is covered in its entirety with beautifully made carbon fiber belly pans. There is no notable damage to any of these pans, and the one at the rear has three NACA ducts symmetrically let into it to ventilate the rear brakes and differential. The rear diffuser looks very purposeful and is in excellent shape. Suspension and various exposed components in the underside are further in good condition.
Slipping past the upward swinging doors, and nestling into the contoured seats, just starting the car is special. The starter button is on top of the shift knob, hidden underneath a flip-up cover. When the ignition is switched on, the surround around the button glows red, and when the engine fires, particularly when cold, the raucous V8 engine note that issues from the side exhaust just aft of the front wheels is absolutely thrilling. Driving the SLR, your senses are immediately engaged. There is an interesting tension to the driving experience: it is violent and mechanical but also refined. The driveline has a substantial, mechanical directness that is missing from most modern cars; the experience is very very different from the light control forces and insular sensation of driving a modern SL. The steering is heavy but has a remarkably direct ratio: 2.2 turns from lock to lock. Nevertheless, the car is incredibly stable in all conditions; never dirty or uncertain. The noise of the supercharger and the instantaneous and explosive progress that comes with even moderate throttle application will elicit grins and giggles from even the most jaded drivers. The brakes are sensational, and in addition to all of the noteworthy aspects of the mechanical operation of the car, it has modern conveniences such as effective automatic climate control, a superior sound system, and a full range of power accessories. The net result of the driving experience is very memorable. The performance is stunning yes, but the delivery and the experience are what truly distinguish the car. At all times, it feels special in a way that few modern cars do.
This fantastic Mercedes-Benz SLR  722 is accompanied by the complete owner's manual with a factory leather pouch, original brochure, first-aid kit, air compressor, and flat tire repair kit. Ready for enjoyable use, the SLR 722 has become one of the most highly sought-after collectible supercars of the 21st century, yet it represents remarkable value as well. Certainly, at the price, it is among the most impactful cars (to outsiders and occupants alike) available today, and its rarity and intrinsic features ensure that it will be a future classic.
We recommend the following videoclip:
Contact us regarding this listing
Back to Top