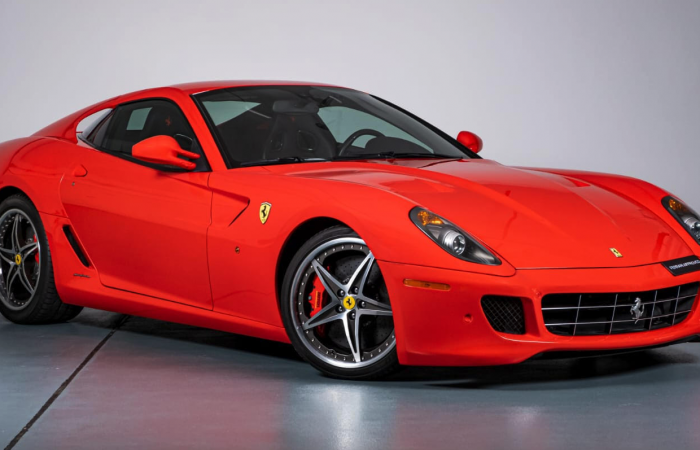 Details
-

Body Type: Coupe
Trans: Automatic
Fuel Type: Gas
Arriving in 2006 at the Geneva Auto Show as the replacement for the 575M Maranello, the front-engine V12 flagship 599 GTB Fiorano was a stunning, modern, high performance Gran Touring car in keeping with a long tradition of superlative sports cars. Incorporating the latest in aerodynamics and materials technology, mechanical improvements including a revised version of the F1 transaxle, F1-Trac traction control, an all new aluminum chassis (a first for Ferrari), and active aerodynamics with computer controlled downforce capability, all driven by the amazing front-mid mounted Enzo-derived 6 liter V12 engine. With an output of 612hp, the Fiorano lived up to its high-speed test track namesake, delivering a commanding 206 mph top speed and 0-60 mph test times in 3.7 seconds.
Penned by the extraordinary Pininfarina/Ferrari design team of Frank Stephenson and Ken Okuyama, the design has been heralded as one of the most successful GT packages, capturing both superb aerodynamics and stunning visual features, including the distinctive "floating" rear sail panels which directly funnel high speed air into a downforce stabilizing tail surfacing edge, unique to the Fiorano design. Throughout the car, unique functional scoops and venting details carefully define the surfacing while integrating key cooling requirements for high speed braking, and heat dissipation. A technical tour-de-force of engineering and design, the Fiorano remains one of the finest and most balanced GT cars ever produced by Ferrari.
This particular car is an 28'800 km example, which has been impeccably maintained by the same Ferrari dealer who sold it when new. It is a very rare and factory HTGE version which includes all extra sports features. Ferrari didn't disclose the exact numbers of factory HTGE cars but it's believed to be below 500 units for the entire world. The Ferrari 599 GTB Fiorano HGTE (HGTE being an abbreviation of Handling Gran Turismo Evoluzione) is an upgrade package for the 599 designed to improve the car's handling. It includes a modified set-up with stiffer springs and a rear anti-roll bar as well as new calibration settings for the Delphi MagneRide magneto-rheological shock absorbers when the manettino is at its sportier settings. The ride height has also been lowered, resulting in a low center of gravity. The package also includes optimized tyres featuring a compound that offers improved grip. The car's electronic systems were also changed. The gearbox's shift times were faster in high-performance settings, while new engine software provided an improved response. The exhaust was modified to produce a more marked and thrilling sound under hard usage while still delivering the right comfort levels at cruising speed. The exterior and interior were upgraded with more carbon fiber components and the car also included new 20-inch wheels. Originally delivered to Dubai (UAE), the car was highly optioned including a rare and desirable "rosso scuderia" color which makes the car even more beautiful. 
Today the car presents in essentially as new condition. The paintwork has been beautifully preserved and shows glossy throughout with excellent clear reflections. The lighting and glass are clear and crisp with excellent detailing and superb luster. The beautiful wheels are in excellent condition, accented by the red calipers and Ferrari center crests. All emblems and script are in exceptional condition again, as with all details surrounding the car, essentially as new.
The interior is visually stunning with excellent finishes throughout, exhibiting no appreciable signs of wear in any areas save for very minor evidence of use on the driver's seat bolsters. The carpets, leather, and dashboard are excellent, with just the right level of sheen to the leather surfaces. The HTGE sport seats are elegantly accented with black piping and inserts, highlighted against the factory black carpeting. Glossy Carbon Fiber trim appears at nearly every turn, adorning the dash and console, door panels, lining the instrument cluster and seat frames. The switches and controls are like new as well with just a hint of surface mellowing on a few of the more frequently used knobs.
The engine compartment and engine have been exceptionally well-maintained and properly detailed, preserving factory finishes and correct hardware, while retaining proper factory labels as the car was delivered. The trunk compartment is very clean, housing the 6-CD changer and factory red manual pack and assorted manuals. The underside is correctly shrouded by airflow management shields, which are in very nice condition. Visible suspension and engine components are clean and free from notable damage, reflective of the low miles on this car.
The car starts with a press of the F-1 inspired steering wheel starter, igniting into a glorious resonant rumble, filling the cabin with authority. Once underway, the power is smooth and progressive under gentle city driving, with no hint of the extraordinary speed and acceleration this phenomenal car is capable of achieving. Entering the highway, acceleration is crisp and riveting as 100 kmh comes up in a matter of seconds. Stability and braking are excellent, offering touring composure and spirited passing literally at your fingertips. The car comes with recent service records, two keys, factory books contained in the correct factory case, tools and a car cover.
This is a great opportunity to acquire an exceptionally nice, highly optioned Ferrari 599 Fiorano HTGE. Developed with premier technical features, stunning design, and a uniquely appointed interior this beautiful car is ready for further shows, enjoyable driving, or continued preservation representing one of the very best GT cars that Ferrari has ever offered. At the moment we've acquired the car it was a "Ferrari Approved" unit purchased directly from the most prestigious Ferrari dealer AlTyer and including two years of warranty.
We recommend the following videoclips:
https://www.youtube.com/watch?v=jztVC8ENghI
https://www.youtube.com/watch?v=2XqsUsONF8Y
Contact us regarding this listing
Back to Top