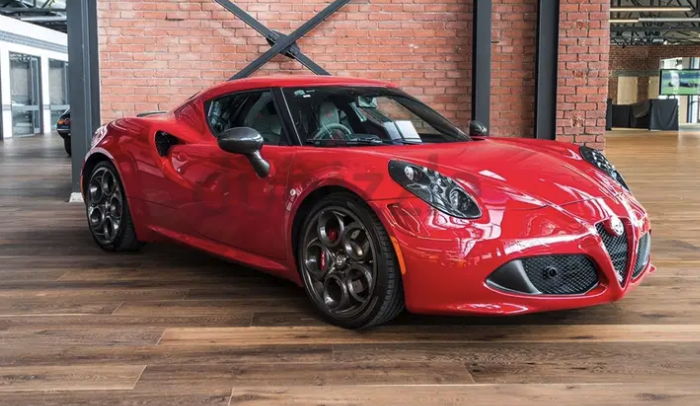 Details
-

Body Type: Coupe
Full Service History
Trans: Semi-Auto
Fuel Type: Gas
Ext color: red
Int color: black
After more than a century of building extraordinary automobiles using state of the art technology, surviving the challenges of a two devastating wars, seismic market shifts, and near financial collapse time after time, Alfa Romeo not only survives but thrives on building beautiful performance cars with distinctly Italian character. After nearly two decades absent from the United States (aside from a 125 8C Competiziones sold in 2008-2010), Alfa Romeo returned to the North American market with the astonishing and beautiful 4C for the 2015 model year. First unveiled as a concept car in 2011 and later in production form at the Geneva Motor Show in 2013, the 4C featured exceptionally advanced technology in a surprisingly affordable package, all aimed at creating an uncompromising driver's car. The chassis employed a monocoque structural carbon fiber tub with aluminum front and rear subframes, all clothed with beautifully designed body shell using sheet molded composite allowing for significant weight reduction without sacrificing strength or durability. At less than 900 kg, the 4C is exceptionally light, while manual steering serves to underline the driver-focused character of the car while providing uncorrupted feedback to the driver.
The 4C derives its name from the four cylinder 237 hp turbocharged engine which is mid-mounted to improve traction and driving dynamics. Four-wheel Brembo disc brakes, unassisted rack and pinion steering, double wishbone suspension, and a measured center of gravity at 16" height result in remarkable stopping distances and jaw dropping cornering capability exceeding many top sports cars at a fraction of the price. Straight-line performance is remarkable as well, with a 0-100 time of 4.5 seconds. Power is delivered to the rear wheels via Alfa Romeos electronic Q2 differential control system. And while all of this might seem like a lot to handle, it is easily modulated via the Alfa Romeo DNA selector modes, Dynamic, Natural, or All weather, allowing different shift programs and performance settings based on driver preferences and road conditions.
This particular car is a very limited edition called "Launch Edition" showing unit 49 of 100  units built.  it's finished in red and black interior, red brake calipers, carbon fiber mirror caps, and special headlights. This rare unit was purchased new by a Dutch owner in Dubai, who just drove it for 1000 kms. After the first inspection at the Dubai Alfa Romeo dealer, the car got sold to its second owner in Abu Dhabi showing just 1000 kms, who serviced it again at 5000 kms and sold it to us with just 5950 kms., This car remains in excellent, near-new condition.
The original factory paint is in excellent condition with high gloss covering the original factory composite body panels. 
The interior spectacularly showcases the car's carbon fiber chassis, which is visible on the sills, floors, and central tunnel. Additionally, carbon fiber accents are employed elsewhere in the interior. The interior condition is essentially very good with no notable marks to the seating surfaces, a beautiful and clean dashboard, and nicely detailed switches and controls. Contrasting red stitching adds a sporting flair to the interior. The engine compartment remains essentially as new with no modifications from the original specifications, as does the storage area, which will easily accommodate a surprisingly useful amount of luggage.
Over the past few years, multiple automotive journalists have driven the 4C, each raving about the unique feel and positive road manners exhibited in this car. For drivers who want more command of the action, the Dynamic mode allows more manual control while the Natural mode delivers more relaxed cruising and leisurely highway driving. The seats are comfortable even for people with larger dimensions while headroom and legroom remain ample for taller frames. Most importantly, this is a truly advanced sports car that was designed to be driven regularly with the confidence and delight that few sports cars offer. It has a remarkable liveliness and transparency, both the hallmarks of great sports cars, and both attributes that are disappointingly rare in modern cars. Despite not having power assistance, the weight of the steering is manageable, and the level of steering feel is truly exceptional for any car, let alone a contemporary car. Acceleration feels explosively brisk thanks to the light weight and torque, and the overall driving experience, enveloped by the carbon fiber chassis and fizzy turbocharged motor sounds, is incredibly visceral and exciting.
The 4C represents an exceptional and singular corner of today's the automotive landscape. A visually exotic and striking Italian car with huge road presence, a carbon fiber chassis, and 0-100 performance in the mid 4 second range, it's genuinely usable for daily transport, the 4C demonstrates that it's a wonderful time to be a car enthusiast. This particular example is a nicely optioned one-owner Spider with low mileage and is complete with Mobility Kit (spare tire substitute), the original owners manual pack with books and Alfa Romeo car cover.
We recommend the following videoclip
https://www.youtube.com/watch?v=XwQpyCk-5R4
Contact us regarding this listing
Back to Top