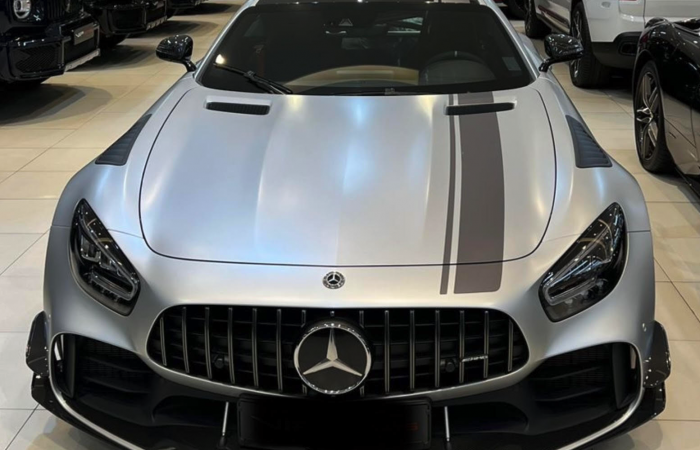 Details
-

Body Type: Coupe
Trans: Choose an item
Fuel Type: Gas
The standard Mercedes-AMG GT R is already in the top 10 on our all-time Lightning Lap leaderboard, where we lapped it around Virginia International Raceway's Grand course in an impressive 2:43.4. And the new 2020 GT R Pro has one purpose: to take its already formidable twin-turbo 4.0-liter V-8 and highly agile and communicative rear-drive chassis and make it even quicker on the track. As a serious piece of performance work, it is a formidable foe to Porsche's 911 GT3 RS—albeit one that is a bit hard-core for regular street use. Which is probably why AMG didn't bother to let us drive its even higher-test GT R Pro version on the road, instead sending us straight on to the 2.8-mile Hockenheimring Formula 1 racing circuit, home of the 2019 German Grand Prix. Even more exciting, it was raining on our drive day.
Although our fair-weather photos show otherwise, a steady spring shower kept each of its 17 turns and several long straights sopping wet for the entirety of our session. You'll just have to trust us on that one. Despite the conditions—and the fitment of the car's (no-cost) optional Pirelli P Zero performance street tires in place of the standard Michelin Pilot Cup 2 almost-slicks—there was no doubting the GT R Pro's potential. If anything, the rain amplified its capabilities.
Mechanically, the GT R Pro employs the same boosted AMG V-8 (577 hp, 516 lb-ft of torque) and seven-speed dual-clutch transaxle as the regular GT R, although the car's enhanced performance necessitated tuning revisions for its active engine mounts, gearbox, and limited-slip differential. A deep, snarling roar fills the cabin when you mat the accelerator, and the dual-clutch automatic still snaps off rapid-fire upshifts and smartly downshifts and holds gears through corners. Effectively laying down the AMG's prodigious power below 100 mph was an act of patience and caution, even with the excellent wet-weather traction of the Pirellis, but the GT R Pro could still flood your body with endorphins as it blasted out of corners.
Piloting the GTR R Pro was the highlight of sampling all of Mercedes-AMG's 2020 GT coupe models. The new model year brings LED headlights across the lineup to match those introduced on the 2019 AMG GT 4-Door, as well as a brilliant 12.3-inch configurable instrument display and a larger 10.3-inch central infotainment screen. More important—especially at high speeds in the wet—are the improved ergonomics brought by the revised center console with its capacitive-touch controls for the myriad performance settings, as well as the update to Mercedes's contemporary steering-wheel layout featuring a new drive-mode selector dial and a redundant digital touchpad for performance adjustments. Further distinguishing the GT R Pro are its redesigned carbon-fiber roof panel and available neon green or dark matte gray stripes. Pricing for the 150 examples that will make it to the U.S. starting in late 2019 has yet to be released. But the entry fee in Germany converts to about $238,000 as of this writing—a $60K premium over a 2019 AMG GT R coupe with the optional carbon-ceramic brakes and the pair of carbon-fiber trim packages that are standard on the Pro.
The rather extensive list of modifications starts with the suspension. The GT R Pro's dampers are adjustable, with separate compression rates for low- and high-speed movement. Both torsion bars are adjustable, too, the front one made of carbon fiber and the rear hollow steel. The GT R uses Uniball spherical bearings on its rear-axle lower wishbones; the Pro adds them to the upper wishbones. These bearings have no play at all, meaning suspension geometry won't change even under high loads. AMG even threw in a carbon-fiber underbody shear panel to help stiffen the body further. Even more stiffness comes from the bolt-in steel half-cage, part of the standard Track Pack, with accommodations to install racing harnesses and an accompanying fire extinguisher. Unfortunately, the cage and extinguisher won't be available in North America or China, but in those markets, the Pro comes with matte carbon trim and a trunk-mounted chassis brace.
To keep everything in line, AMG retuned the R's electronically controlled dynamic engine and transmission mounts, while the driver and passenger get belted into clear-coated carbon fiber bucket seats, or AMG's performance seats in America, Canada and China.
Then, there's the aero package. Immediately notable is the bigger rear wing sitting on milled aluminum brackets. The new carbon fiber roof has a lowered mid-section to channel air to the spoiler, and there's a redesigned front apron with clear-coated carbon flicks on either side and a large front splitter with metal braces that scream business. The front fender louvers may remind you of the Porsche GT2 RS, while the massive aero element at the rear fenders is pure McLaren 600LT-style, mostly because there are only so many ways designers can work with airflow.
All these clear-carbon bits, plus the GT R Pro's standard ceramic brakes and forged wheels help shave six seconds off the lesser GT R's Nürburgring time, in the hands of someone who was told not to worry about curb damage. So, what happens when you find yourself at an F1 track—the Hockenheimring—and feel the urge to dial the GT R Pro into "Master" mode?
Heavy rain and standing water on this otherwise straightforward circuit told me I shouldn't. And then I thought, okay, but what if I just follow five-time DTM and multiple endurance race champion Bernd Schneider's lines as closely as possible? Obviously, I got sabotaged again, because not only could I not see his lead car from all the spray, but Bernd also didn't stick to just one line for his laps, making my whole copycat effort futile.
There comes a moment on your way out of Hockenheim's fast left-hander when your speed in the AMG GT R Pro exceeds what a sane mind would recommend in the wet. The car then begins a four-wheel drift before the ESP goes tak-tak-tak-tak-tak and the intervention cuts the understeer, allowing for even more speed before you can test the ABS at the next corner. You don't know how much slower a standard GT R would be under the same conditions, but you do believe everything Mercedes says about the Pro's chassis enhancements, aero improvements, and the wet performance of Michelin's Pilot Sport Cup 2 ZPs.
In a dark color without the vinyl stripes, the Pro will be a menacing toy. As a road car, it will be harder on your back than the standard R. On track, you might want to master the Pro before the inevitable Black Series drops the mic with, we assume, more than 600 horsepower. But talk about a good problem to have.
This particular car is a GCC version showing just 7500 km and just one owner car always serviced by the official MB AMG dealer. It comes with full PPF protection and it finds itself in perfect original looking and drivable conditions.
We recommend the following videoclips:
https://www.youtube.com/watch?v=KqaklRaB9cY
https://www.youtube.com/watch?v=KR6kd-a8540
Contact us regarding this listing
Back to Top