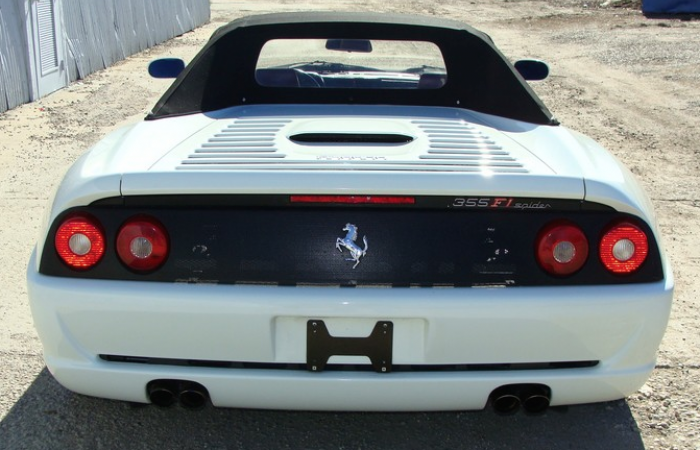 Details
Sold

Body Type: Coupe
Dealer Location: Madrid
Trans: Choose an item
Fuel Type: Gas
Ext color: white
Int color: red
The Ferrari 355 Spider was produced from 1994 through 1999 and replaced the Ferrari 348. There were three versions available, the Berlinetta, the GTS and the spider. The Spider was introduced in the following year in 1995 and in 1998; Ferrari introduced the F1 gearshift option, which added about $10,000 to the asking price.
In 1999, Ferrari included numerous upgrades including, racing brake kit, cross drilled brake discs, suede steering wheel, rear challenge grill, Scuderia shields, lowered ground height, etc… It's also fitted with a rear challenge grille which, in addition to cosmetically distinguishing the car, allows more airflow through the engine. This particular car is 1 of a handful in white color cars produced.
Cosmetically, the car is in good condition. The body is straight. There has been no significant paintwork done. The panel fit is good all the way around the car. The 4 wheels look presentable with no visible damage.  The glass all around the car is in excellent condition except for the windshield which is showing a rock chip. The lenses around the car are not cracked and the emblems are very nice. The paint has a beautiful shine.
The interior is in nice condition with no major blemishes except for the back of one seat. The driver's seat shows some wear from ingress and egress but is normal for the mileage and age of the car. The dash shows no pulling often the case with the 355's. The stock stereo system includes in-dash CD player. The carpets, which look to be dealer supplied, are in great condition and show no tears or fading. Drivers and passengers door panels are in remarkable condition.
This car is fitted with the F1 transmission coupled to a 375hp 3.5 litre V8, still one of the highest specific output naturally aspirated motors ever built for street use. In this configuration, zero to 60 takes approximately 4.7 seconds.
The engine bay is correct and original, as is the front compartment. A Tubi exhaust system has been installed and it sounds exquisite.
The very significant major service was completed by an official dealer back in 2008 at the cost of almost $20.000.  The mileage at the time of the work was approximately 16,000 miles.
We recommend the following videoclips:
Contact us regarding this listing
Back to Top