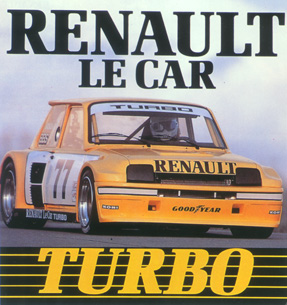 Details
The Classic Road Collection car

Year Built: 1982
Trans: Choose an item
Fuel Type: Gas
Bought in the USA East Coast back in 2008. Ex Patrick Jacquemart.
This is the exact trace and history of this vehicle:
After the tragedy of Mr. Jacquemart at Mid-Ohi, the Renault USA racing team was extinguished and the remaining cars and parts were sold. This Renault Le Car IMSA GTU showed up in 1986 in a workshop in Swanee, GA. The workshop was called Sunny South Racing and was owned by Ron Horvath. He and a Gentlemen by the name of Bill Gucker had just purchased the car and the entire stock of Renault racing parts. Sunny South was importing R5 Turbo 1 and 2′s. The car was one of the units built by Renault Racing USA from Livonia, Michigan. There were 3 cars built to contest the IMSA GTU series of which the first was the race car driven by Patrick Jaquemart, in which he lost his life (destroyed), the second was the spare car (now located in Phoenix, Arizona) and the third, which is this car ,was the third car which went to all the races to help promote the sale of the Renault Le Car. Sadly Patrick was killed testing the first car at Mid Ohio which led to Renault Racing USA to close its operations. At that time Archer Brothers of Duluth, MN, purchased all the inventory from Renault Racing USA which included the second race car, this third car and many racing parts. The second car was campaigned on the west coast and later purchased by the U-Haul corporation. It is still in his ownership. Archer Brothers later advertised this car at which time is was purchased by Ron Horvath and Bill Gucker. Not only they did purchase this car but also many racing spare parts. Later the two decided to split the inventory. Bill Gucker took the car and Ron Horvath the racing parts. Soon thereafter the ex owner contacted Bill Gucker and purchased the car from him. It sat inside the garage of the previous owner (near New York) for several years and then he decided to have it race ready for HSR (Historic Sportscar Racing) in the USA. The car was sent to Laminar Concepts in Media, PA and Gerry Fink put the car back together in its original state. The previous owner, Mr. Van der Steur raced the car in HSR at Road Atlanta and Watkins Glen in 2003. Then it was storaged for some more years until it got purchased by The Classic Road.
Last Renault 5 Turbo ex works rally sold at Artcurial auction broke sales record at USD 544,443. See link http://blog.hemmings.com/index.php/tag/renault-r5-turbo/
We recommend the following videos:
https://carandwheel.com/physics-of-how-hans-device-saves-lives
Contact us regarding this listing
Back to Top