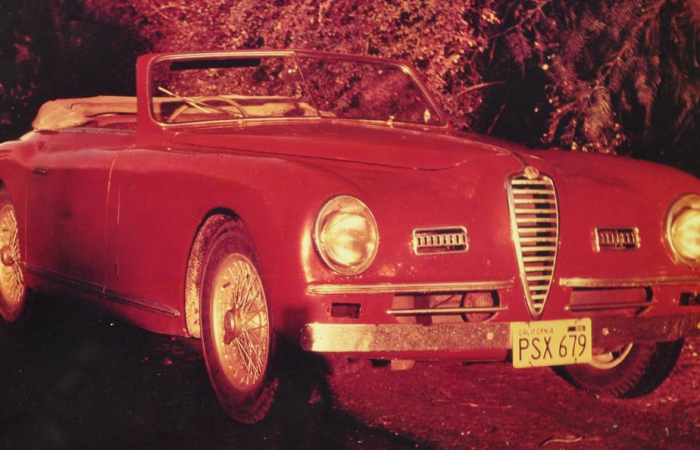 Details
JUST SOLD

Body Type: Convertible
Dealer Location: Madrid
Year Built: 1948
Engine Size: 2.5L
Trans: Manual
Fuel Type: Gas
Ext color: red
Int color: blue
A development of the prewar 6C 2300 and 2500, this 6C 2500 Super Sport is the ultimate variant of the old style elegant, glamorous, and luxurious Alfa Romeos that were developed under the guidance of Vittorio Jano and Wilfredo Ricart. The specification is accordingly modern, including dual overhead cam engine and independent suspension all round. Alfa Romeo ambitiously raced the 6C 2300 and 2500 following their introduction, amassing an impressive string of victories and podium finishes including 1-2 in the 1937 Mille Miglia, 1-2-3 in the 1937 6 hour Targa Abruzzo at Pescara backed up by another Pescara win in 1938. Successful races continued after the cessation of WWII hostilities, including an overall win in the 1950 Targa Florio.
The most technically potent of several 6C 2500 models was the Super Sport. With three Weber carburetors it gave 110hp even on the low octane fuel available in Europe at the time. The 6C 2500's relatively stiff frame and 4-wheel independent suspension delivered this power to the road much better than the typically cart-sprung solid axle cars of the day. The supple suspensions were easier on drivers and passengers, important both in preserving a competitor's alertness at the end of the Mille Miglia and to the owner of a Gran Turismo Alfa at the end of a road trip to Cannes. Their combination of sophisticated engineering, durability, and attractive bodywork has ensured that they are, and have always been, highly sought after by collectors and performance minded enthusiasts. Three variants were built postwar, including the two closed versions, one by Carrozzeria Touring of Milan, and one in house by Alfa Romeo.
This particular car, is a matching numbers unit, bodied by one of the most prestigious "carrozziere" Pininfarina.
It is a very solid restorable example requiring a complete restoration but every single part of it is original up to the interior.
The car was sold back in 1949 to Signore Edmondo Cordunet of Milano (Italy), who drove it for the first years of its life, until he sold it to Mr. Fred Puhn of San Diego, California. He had a small accident with the car while driving home from the dock when he first picked it up in 1958. He'd spent all he'd saved purchasing the car so it took him some time to repair it himself. In 1970 the car got sold to a very famous lawyer of San Diego, California, who kept it for almost 43 years. We could say that this is a 3 owner's car.
Most exclusive of the post war 6C2500 line was the 6C2500 SS, built on a short 2.7 metre chassis and intended for exclusive coachbuilt bodywork. Total production of the 6C2500 SS was 458 units, of which 75 were built between 1939-1943 and 383 between 1947-1951.
This delightful coupe must be one of the handsomest post-war Alfa Romeos and would be a worthy addition to any connoisseur.
See https://www.rmauctions.com/lots/lot.cfm?lot_id=1066006 to evaluate the price tendency
We recommend the following videoclips:
Contact us regarding this listing
Back to Top