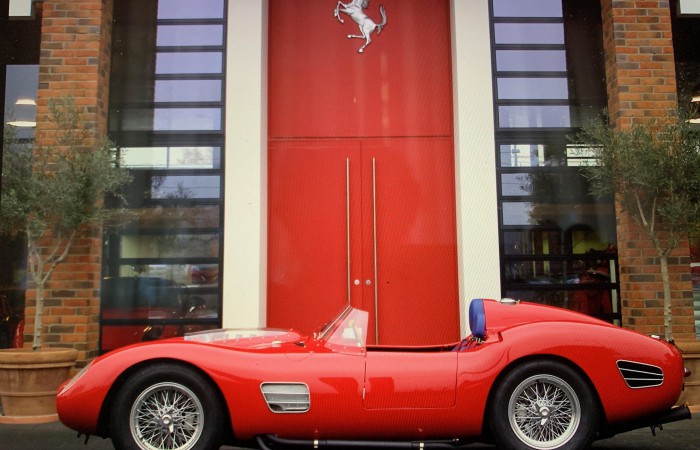 Details
JUST SOLD

Body Type: Convertible
Year Built: 1959
Engine Size: 3.0L
Trans: Manual
Fuel Type: Gas
The 250 Testa Rossa is quite simply one of the most remarkable and important cars built by one of the most legendary marques. Thanks to their World Sports Car championship victories (including Le Mans in 1958, 1959, and 1961) and historical significance, 250 Testa Rossas are now so valuable that they are rarely used, depriving the public and their owners of the joy of experiencing them. Consequently, high-quality evocations using Ferrari chassis, with Ferrari serial numbers, wearing alloy bodies, and using Ferrari mechanical components have garnered the interest of true Ferrari enthusiasts seeking the experience of some of the most significant automobiles ever constructed without the multi-million dollar price tags. 
  This car is not using serial Ferrari parts but it is an identical and probably the most perfect and identical evocation in every part, including the unique TR59 gearbox, differential, the extremely efficient and rare De Dion rear axle, original gauges and exact alloy body, engine, fuel tank, suspensions,  the rare and very desirable six double 38DCN carburetors, etc… It is documented as a Ferrari 250 and it comes with original Ferrari 250 VIN and engine numbers.   This car was reconfigured around 30 years ago in the UK. It was one of the most ambitious projects in the world of Ferrari evocations and it could only be achieved by Mr. Jim Allington, who was one of the owners of one of the original Ferrari 250 TR-59 units. Mr. Allington had a multimillionaire offer for his original car and he decided to build three identical units before releasing his original. This specific unit was partially accomplished by John Robinson and Terry Hoyle and complete by Talacrest. One unit was sold in auction around 20 years ago soon after he passed away. These three units are probably the best recreations ever built on a TR-59 and proof of it is that the first unit turned out to be purchased by Mc.Caw brothers who already had acquired original 0776 and also another original unit. The other sister spent several years in Norway and then returned to the UK where went sold a few years ago for a record sale and then this one which is probably the most identical and well documented of the three sisters. This unit was fully restored by an official Ferrari dealer. Available a Pendrive with over two hundred pictures of the full restoration as well as two expertise appraisals which shows the reality of this impressive racing vehicle, not only in terms of quality but of price orientation.   As follows, the entire history of this unit:    
10/07/63: Born as a Ferrari 250 and sold new through Garage Montchoisy, Geneva, CH, Switzerland
  20/07/63: Imported in Italy and registered by Ugo Tagliaferri (Roma) on number plate Roma D 62279   10/11/64: Sold to Signora Maria Marchini (Pavia)   17/11/65: Sold to Mr. Rocco Fanci (Valdino)   16/11/68: Acquired by the famous Ferrari Specialist SaS Motor di Carlo Allegretti    26/11/68 Sold to Mr. Novelli Maria Consiglia di S. Vicenzo (Roma) for the amount of 745.000 Lire     12/08/69: Sold for 880.000 to Mr. Giorgio Guglisi (Roma)   06-07/70: Exported to the US and advertised in California by LA Times (Seller's phone number 213-395 45 59). Still on number plate D 62279 Roma  
In the early 1990s:  Imported in the UK and Sold to a Mr. Hill/UK. 
Early 90´s: Mr. Jim Allington ordered to get this car built using his original unit #0770. 
93: Conversion was partially achieved by Terry Hoyle as 250 TR59 (copy of 0770TR) using Terry Hoyle´s #4761 as donor car
93: engine installed 2263GT (250 GTE S1)
04/95: Road registered by Mr. Terence D. Hoyle (Terry Hoyle), Pleshey, Chelmsford/GB who registered the car on plate ACK 195A
  09/1995: Road registered by Mr. David Morrison, Esher, Surrey/GB keeping registration plate ACK 195A   
19-29/10/95: Talacrest Ltd completed and finished the car to the highest standard with his own Ferrari specialists and exhibited the car at the London Motor Show. It was registered back then on number plate  AJN892A.
Early 1997: Sold to Mr. Peter M. Fandel ("Pierre Fandel"), Birtlingen/D
98/feb – offered by ProTrade GmbH, Hamburg, D asking $205,000
06/1998: Sold for ca. 400.000 DM to Mr. Percy Bongers, Hamburg/D (it was valued by the expert B&D for half-million DM)
04/2003: Sold to René Dreiner, Hamburg/D who fully Rebuilt the car between 2003 and 2005 at Ferrari Official Dealer Eberlein Automobile GmbH (Germany).
07/02/2011: Purchased by the Ferrari official dealer Eberlein Automobile GmbH, Kassel/D and engine was again fully rebuilt by them.
2012: Sold to Stefan Rehkopf, Bovenden/D
07/15/2014: traded back to Ferrari Eberlein Automobile GmbH, Kassel/D and registered on plate KS-UA 342H (valued by classic car expertise for USD 1 Million)
04/16/2019: Sold to Paco Ramos (Classic Road), Dubai/UAE who got the car registered back on its old original plate ACK 195A
This magnificent car was executed with the consummate attention to detail expected of someone who takes some of the most desirable cars in the world and makes them almost surreally rapid. In keeping with that tradition, this car has been fitted with a tuned Tipo 128F 3-litre engine and its TR-59 5-speed transmission, which make this car extremely quick.  
The car was built to a high standard and remains in excellent condition after having undergone a top restoration by the above mentioned Ferrari official dealer. The complete car was redone to a very high quality and makes an exceptional presentation. The trim is very nice throughout, and the 16-inch Borrani wire wheels are in as-new condition with correct dimension 5.0 front and 5.50 16-inch rear with period-type Michelin Racing tires fitted. The headlamps are in excellent condition, reflecting the attention to detail, as do a number of other small items such as the leather hood straps and unmistakable clear carburetor hood scoop.
The interior is simple but very evocative, with upholstered cloth blue bucket seats in the style of the car, as well as a purposeful grey painted alloy dash with ample instrumentation and a very special and elegant wood-rimmed steering wheel.
The engine compartment is very clean and detailed, and the 6-carb setup is truly an impressive sight. The valve covers have been painted red as is appropriate for the Testa Rossa model and name. The underside is similarly clean and detailed, showing correct finishes throughout.
This car is a blast to drive thanks to the five-speed gearbox and tuned engine, which is a full one third larger than the original engine would have been, while aesthetically remaining much the same. The disc brakes ensure that stopping is equally well accomplished, while the car performs otherwise as a Testa Rossa would. The driving position is very comfortable.
This is a very fast and enjoyable car to drive that will be a wonderful way for the new owner to enjoy the feel and performance of one of the world's most historically significant Italian competition built automobiles. Moreover, the car has participated at the 1990 Scottish Historic Motor Sport Tour and at the "Storiche Biella-Modena" among others but it is eligible to many other European and intercontinental events which have recently accepted the participation of very accurate aluminum-bodied reconfigurations built from actual Ferrari VIN´s. This car would also be a welcome entry to vintage racing with HSR and SCCA Vintage, among others.
  We recommend the following video clips:
https://www.youtube.com/watch?v=txgDBAf8KGo
https://www.youtube.com/watch?v=RM6x0IFwVTE
https://www.youtube.com/watch?v=ttl-kF8Rbuo
Contact us regarding this listing
Back to Top