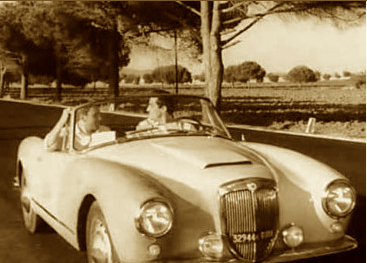 Details
SOLD

Body Type: Convertible
Dealer Location: Madrid
0 Miles
Year Built: 1958
Engine Size: 2.5L
Trans: Manual
Fuel Type: Gas
Famous for their incredible craftsmanship, innovative engineering solutions, and complete disregard for cost accounting with respect to those engineering solutions, pre-Fiat Lancias are, in many ways, in a class of their own. Few cars are as thoughtfully engineered or built, which helps to explain why Lancia encountered a great deal of financial troubles. The Aurelia was first conceived during World War II, and was powered by what is considered to be the world's first production V6, which included hemispherical combustion chambers. To improve weight distribution, the car included a rear-mounted transaxle unit including clutch, inboard rear brakes, and independent rear suspension (which would later be supplanted by a de Dion rear end). Contemporary road testers marveled at the car's refinement, exceptional build quality, and roadholding. They found the car to be highly capable and a joy to use, with the magazine The Autocar going as far as to claim that the Aurelia was "one of the most desirable sporting cars of the decade".
The cars proved to be highly successful in competition, with perhaps the Aurelia's most shocking achievement occurring at the 1951 Mille Miglia. The factory entered four Aurelias, and the car of Giovanni Bracco and Umberto Maglioli soon left the 2-liter competitors behind and began closing on the overall leaders, who were piloting cars with 50% to 100% more displacement. In the torrential rain, the 2.0 liter 80hp Aurelia closed five minutes on the leading 4.1 liter Ferrari 340 in the second to last leg alone, and was still closing at the end of the event, placing second overall! The Aurelia lost by 20 minutes in a 13 hour race, amply demonstrating the capability of both drivers and car. The Aurelia met with countless other competition successes, including another class win on the Mille Miglia plus further class victories at the Le Mans 24-hours, Coppa d'Oro delle Dolomiti, Pescara 6-hours, Carrera Panamericana and Targa Florio, among others.
The most sought after and beautiful variant of the Aurelia is the B24, an open car with a shorter wheelbase when compared to the closed variant, the B20. Fitted with a significantly more powerful 2.5 liter engine and styled by Pininfarina, the cars were very striking, and were produced in essentially two forms. The Spider was less sophisticated, with side curtains, no exterior door handles and an American style wraparound panoramic windscreen, while the Convertible had wind up windows, larger doors, and the mechanical refinements associated with the fifth and sixth series B20's.
This particular car was built in 1958, being one of the very last evolution of the B24′s. The car was new delivered to a gentleman in the US. Under his care, the car was very well taken care of and it remained in the same hands for over 22 years. In 1982 it got sold to Mr. Bart di Massi of Cocoa Beach, FL (USA). After 11 years, the car got sold to a collector who used it only in summer time and kept the car in storage between 1993 and 2012, when the car was put on sale through Classic Investments of Colorado. Then soon it got sold to a new dealer of California called Victor Preisler. This new owner bought it as investment and just serviced it up, including brakes overhauling with new wheel cylinders front and rear, as well as the master cylinder, new set of tyres, clutch m/cylinder and slave cylinder rebuilt, driveshaft joints serviced and reassembled with new boots, fuel tank cleaned and lined, fuel lines cleaned, carburetors rebuilt, linkage overhauled, new electric fuel pump, water pump rebuilt, radiator flushed and the top and top alloy water pipes replaced with NOS, steering joints serviced and alignment checked, starter motor rebuilt, new exhaust system replaced, and lots of other detail work on electrics, soft top fitment, seat runners, etc. (all invoices available). From Preisler it got sold to a new car dealer of Minnesota, who owned it brefily before trading it for a special Maserati to the current owner . We could say that the car is a 3 owner's car, as all others were dealers who owned the car for business purposes and did only some works on it.
A magnet has been run over the rockers and all around the car and it hasn't been found any bondo. It has very good compression, idles smoothly at 600 rpm, runs at around 50psi oil pressure when fully warmed up. Gearbox/clutch work exactly as they should. Overall it is a good  "driver" unit that can be used without any further work.
This great icon was originally finished in silver with green leather, and equipped at the factory with the desirable 2.5 litre, three carburetor engine specifications. This sleeping beauty has only accumulated 56,237 miles. During the nineties, the car was repainted in burgundy color.
According to Signore Guido Lamperti from the Lancia club all numbers are matching:
Chassis number B24S-1667
Engine number MOT B24 N.1763
Original external color: Grey (Griggio)
Upholstery: Red leather
Body: 00669 (scocca)
Differential: 1234
Suspensions: 487
Steering box: 1487
Date of production: 16/05/1958
The total production run of the B24S Convertible Pininfarina was only  521 units. We estimate not even a third are still alive.
Horsepower: 120 bhp DIN, SAE @5000 rpm
Torque: 172 lb @ 3500 rpm
Transmission: 4-Speed gearbox
Suspension:
Front- Independent with unequal-length wishbones, coil springs, hydraulic shock absorbers, stabilizer bar.
Rear- Solid axle de Dion with semi-elliptic leaf springs, Panhard rod, stabilizer bar.
Top Speed: 175 km/h
The overall impression is of a well-cared almost unmolested car. The chrome is still nice as well, with some light scratching and pitting only. The lights and glass are very nice overall, though the windscreen has light pitting, a small area of delamination, and some wiper marks. The headlamps are  in excellent shape. The car sits on steel wheels shod with Michelin X tires.
The interior has a similar feel to the exterior, with a pleasant patina on the leather seats. The door panels are still nice. The trim is very good overall, as is the lovely wood-rimmed steering wheel. The instruments are beautiful items and have minimal yellowing, and the car is equipped with a charming vintage radio.
The trunk shows its original spare wheel and jack and the engine compartment is in good order. The floors appear to be structurally sound, and the driveline is tidy and dry.
The car drives and operates well. The engine starts immediately and idles properly, and the clutch operates smoothly. The transaxle is excellent, and the brakes are very capable and pull the car up straight. There is no untoward vibration from the driveshaft or axles, and the engine displays excellent oil pressure.
This is a superb opportunity to acquire one of these lovely automobiles. Beautifully styled and engineered, the Aurelia B24 is a car with tremendous depth. Where other cars are crude and show signs of cutting costs and corners, the Aurelia impresses with its unfailing commitment to excellence in all respects. Consequently, they are particularly appealing to seasoned and sophisticated collectors seeking an uncompromising car that is at once sophisticated, sporting, and beautiful. This particular unit comes with an US certificate of Title and includes the very desirable and rare original Lancia B24 hardtop. Among its most special features, we'll find under the hood the most expensive mechanical option of its period, the Nardi double carburetor kit, which increased the power with a much more reliable and smother response of the engine.
The Aurelia is one the most excellent and appreciating Italian classics. The last restored Aurelia B24S convertible got sold at the 2012 Gooding & Company for $561,000, so there is plenty of room for a partial or full restoration if its new proud owner so desires.
The last fully rebuilt unit sold at an auction got sold for $ 561.000 (approx Euros 430.000). An unrestored but drivable unit got sold this 2013 at Bonhams Monterrey auction for $ 379.500 (approx Euros 292.000).
Some price indications of similar cars for sale or recently auctioned:
http://www.goodingco.com/vehicle/1956-lancia-aurelia-b24s-convertible/
http://www.bonhams.com/auctions/20994/lot/153/
http://www.hemmings.com/classifieds/dealer/lancia/aurelia/1592270.html
We recommend these videoclips:
Contact us regarding this listing
Back to Top